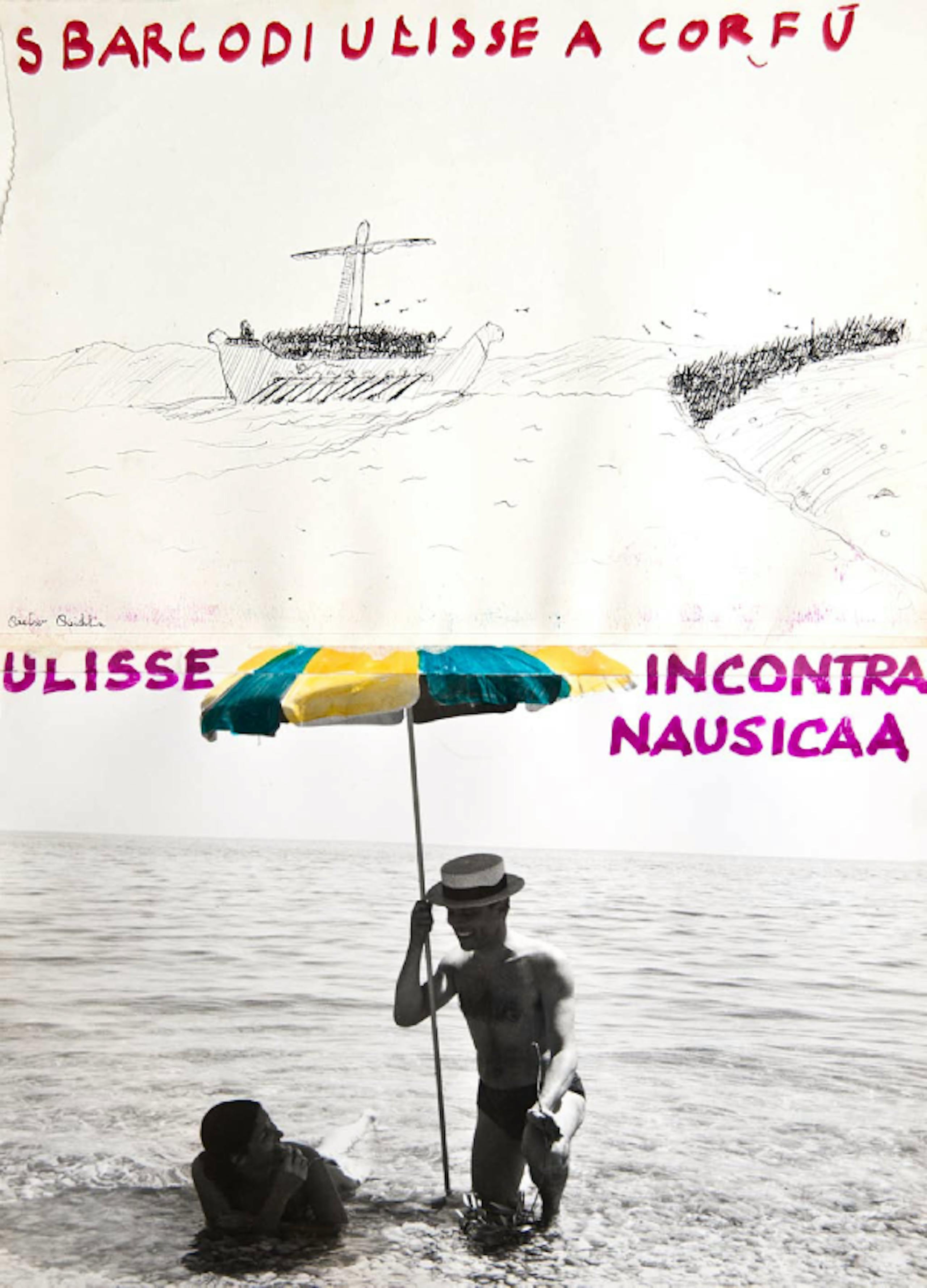 The Aymonino Family's Travel Albums
The sisters Livia and Silvia Aymonino remember with these words their father Carlo and his passion for travel, bringing back a selection from the Travel Albums that Aymonino loved to make:
Right from when we were very little, our father accustomed us to the idea that our observations, travels and thoughts always needed to be put down on paper, because for him (and then for us, too) that's where the meaning of things came from: memories, thoughts, fun and what we saw had to be 'fixed' if we really wanted to understand what was going on around us.
And indeed, this way he had of 'travelling' through life is amply documented in the major exhibition that Triennale has decided to devote to him.
It has been our language ever since we were born. First with our scrapbooks and then with our travel albums, which filled our summer afternoons after our seaside adventures. How we hated them, how we loved those daily tasks that we would do as evening fell. We all did what we could do, though sometimes we may not have wanted to. Then he, with that unique touch of his, would bring together these logbooks, turning them suddenly into the most wonderful worlds: collages, jokes, pop-ups, photomontages, colours, dreams and dried flowers all came to life in a garden of icons.
We have always communicated with each other like this, with our family language and customs, with letters, postcards, photographs, nursery rhymes, drawings, paper, pen and colours to learn as we live.
"Travelling is like studying", he wrote and that's what he did, all his life.
Livia and Silvia Aymonino – July 2021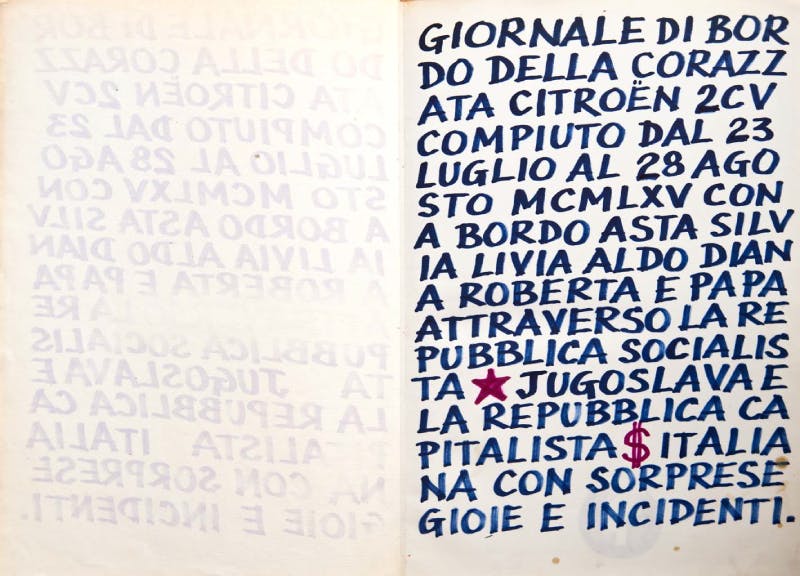 Travel Books, Croatia, 1965, mixed media, 36 × 26 cm. Courtesy A.,L., S., A. Aymonino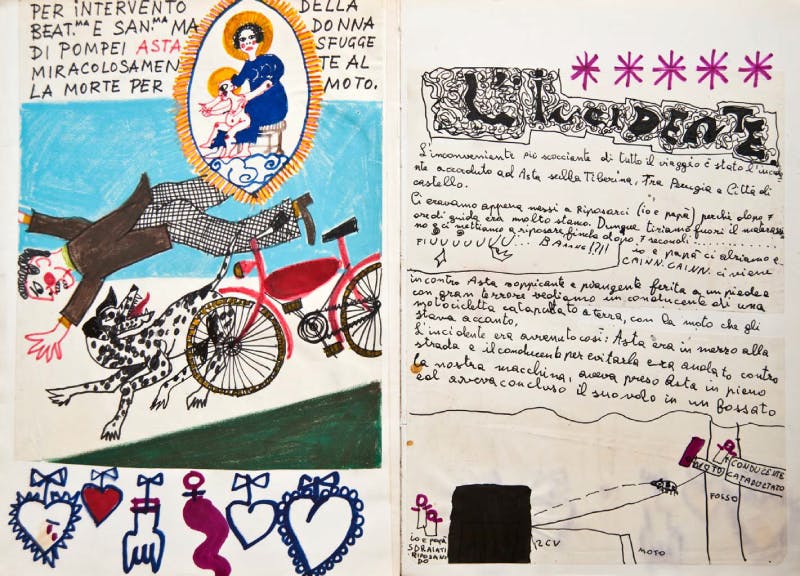 Travel Books, Croatia, 1965, mixed media, 36 × 26 cm. Courtesy A.,L., S., A. Aymonino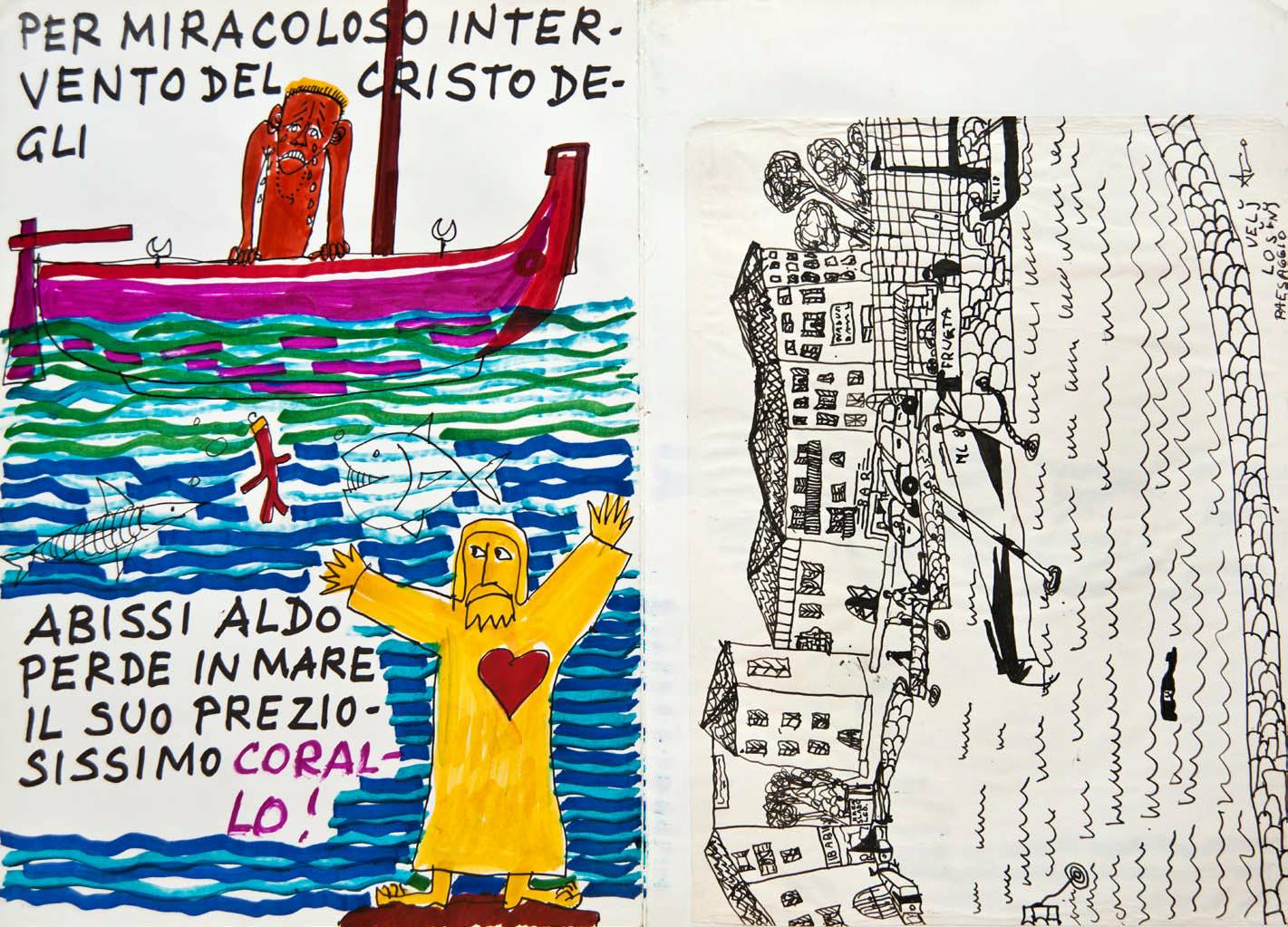 Travel Books, Croatia, 1965, mixed media, 36 × 26 cm. Courtesy A.,L., S., A. Aymonino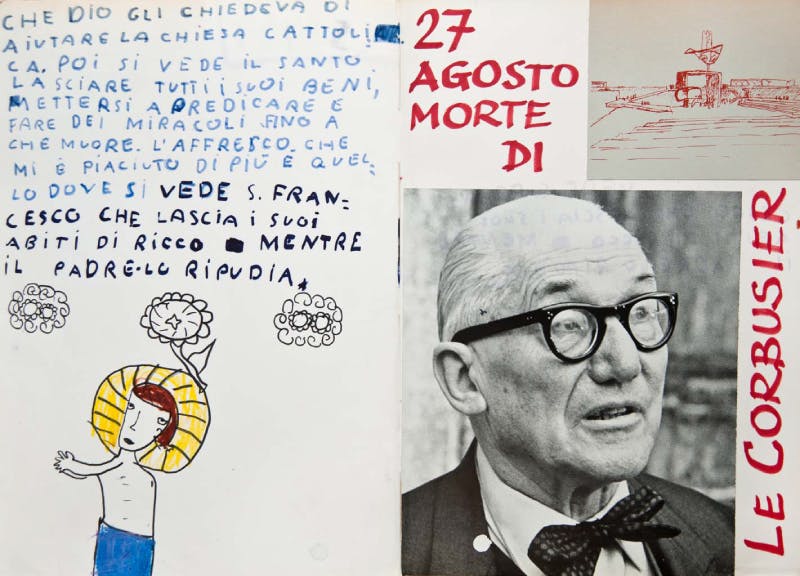 Travel Books, Croatia, 1965, mixed media, 36 × 26 cm. Courtesy A.,L., S., A. Aymonino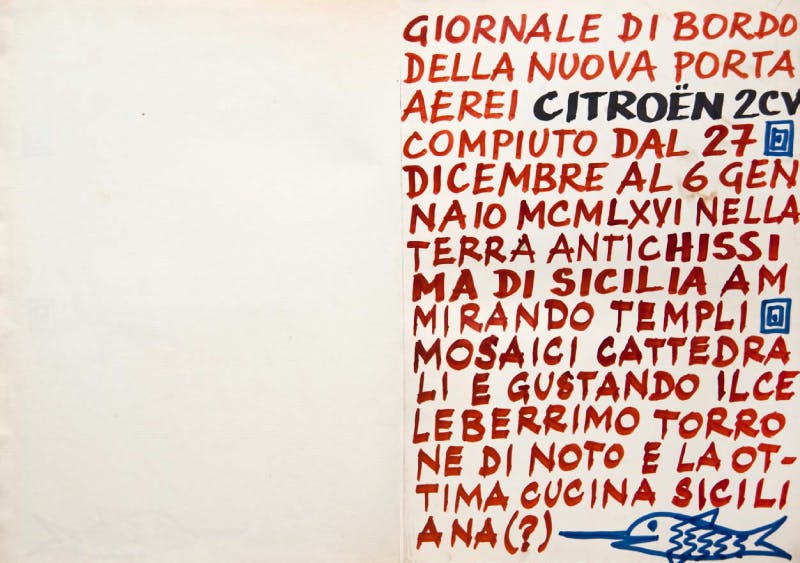 Travel Books, Sicily, 1965-1966, mixed media, 36 × 26 cm. Courtesy Luciana Tissi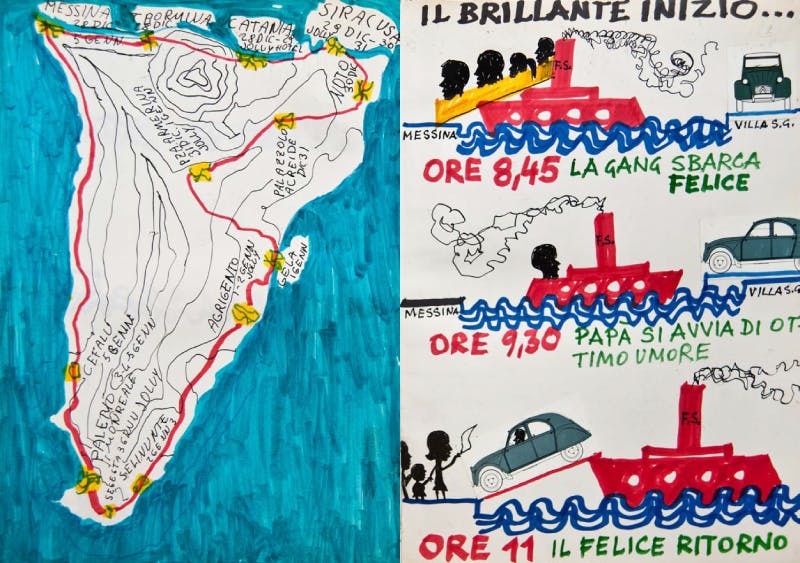 Travel Books, Sicily, 1965-1966, mixed media, 36 × 26 cm. Courtesy Luciana Tissi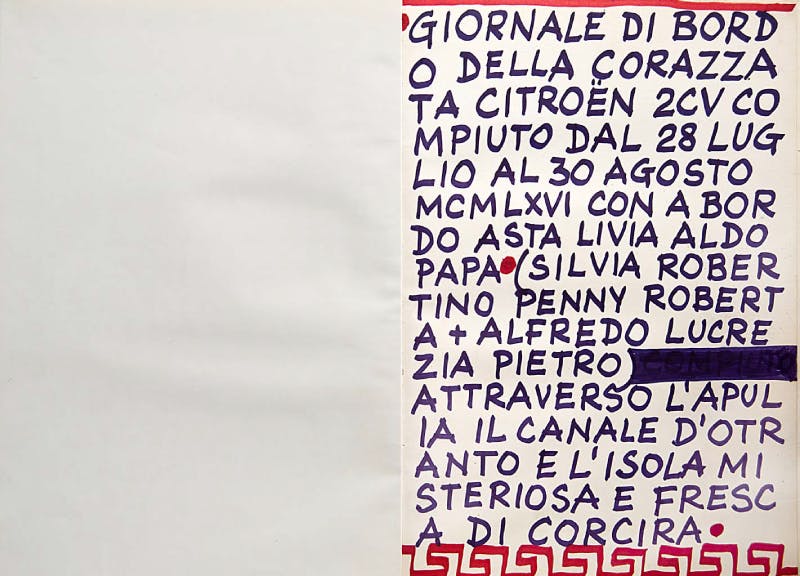 Travel Books, Corfù, 1966, mixed media, 36 × 26 cm. Courtesy Luciana Tissi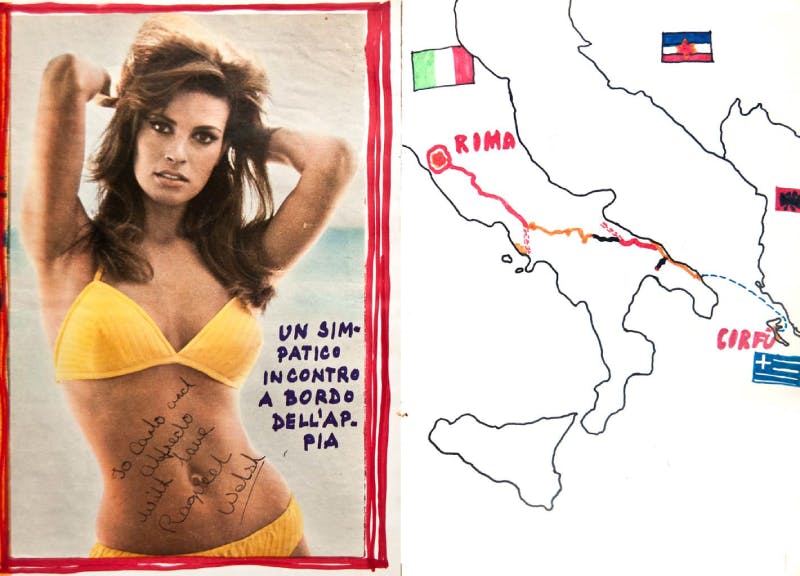 Travel Books, Corfù, 1966, mixed media, 36 × 26 cm. Courtesy Luciana Tissi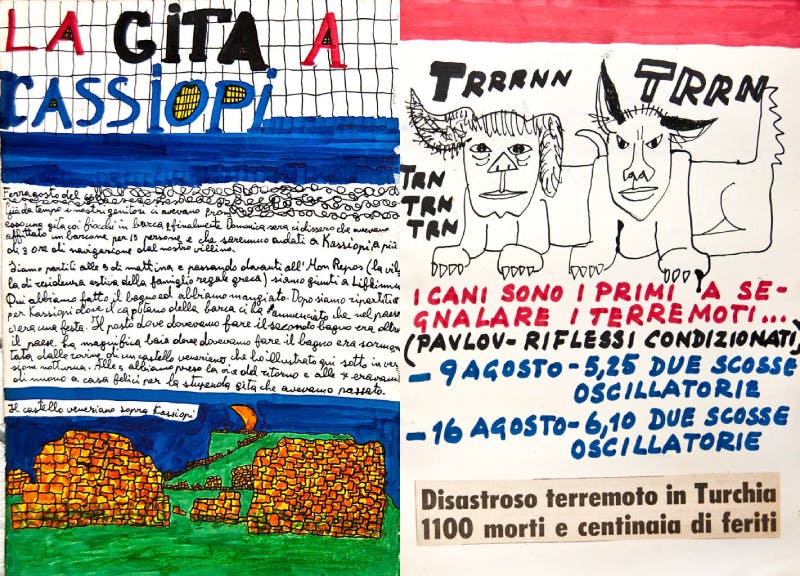 Travel Books, Corfù, 1966, mixed media, 36 × 26 cm. Courtesy Luciana Tissi
Travel Books, Corfù, 1966, mixed media, 36 × 26 cm. Courtesy Luciana Tissi