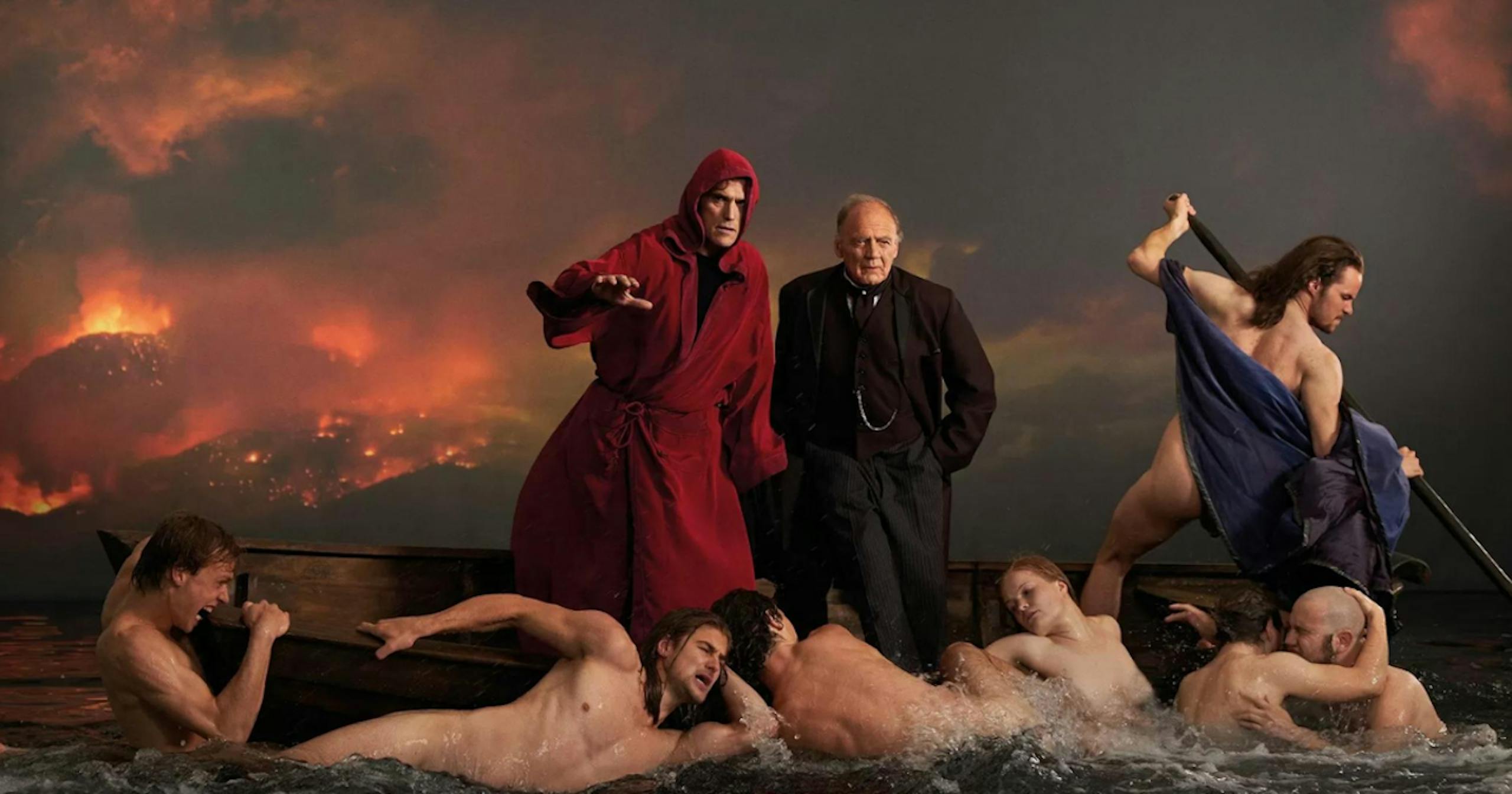 Dante's Divine Comedy in Imagery: from Doré to Netflix
Virgilio Sieni's performance Paradiso and the projection of the theatrical trilogy Romeo Castellucci dedicated to the Divine Comedy that the Triennale Milano staged in early December offer us an opportunity to consider how, 700 years after Dante's death, his tome continues to be a "locus" of reference, not just for all our texts, but also for our imagery.
From its earliest editions, the Commedia (Divina for Giovanni Boccaccio) appeared with an iconographic apparatus: the oldest manuscripts are richly illuminated, and the earliest printed editions illustrated.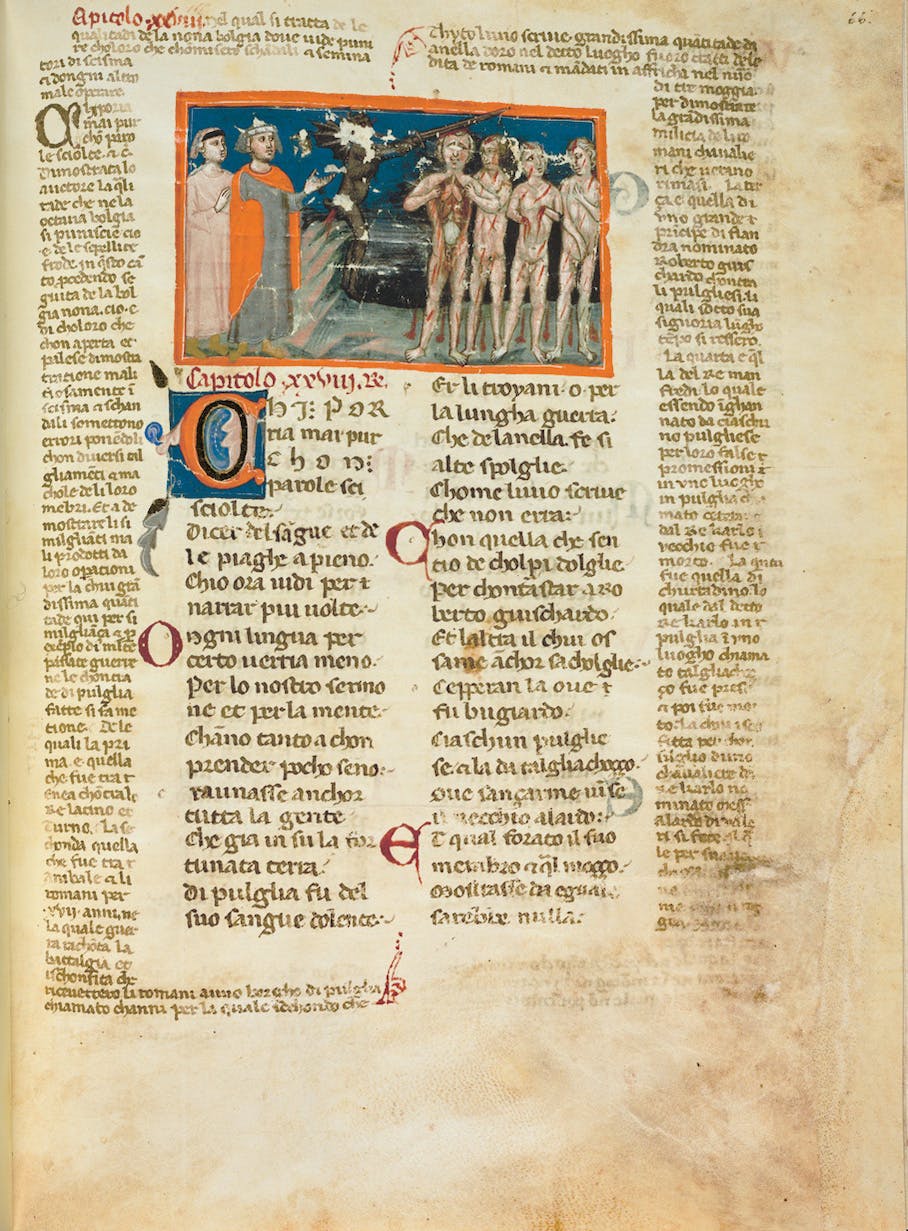 Palatino 313 della Biblioteca Nazionale Centrale di Firenze. Fonte: Library Brown Edu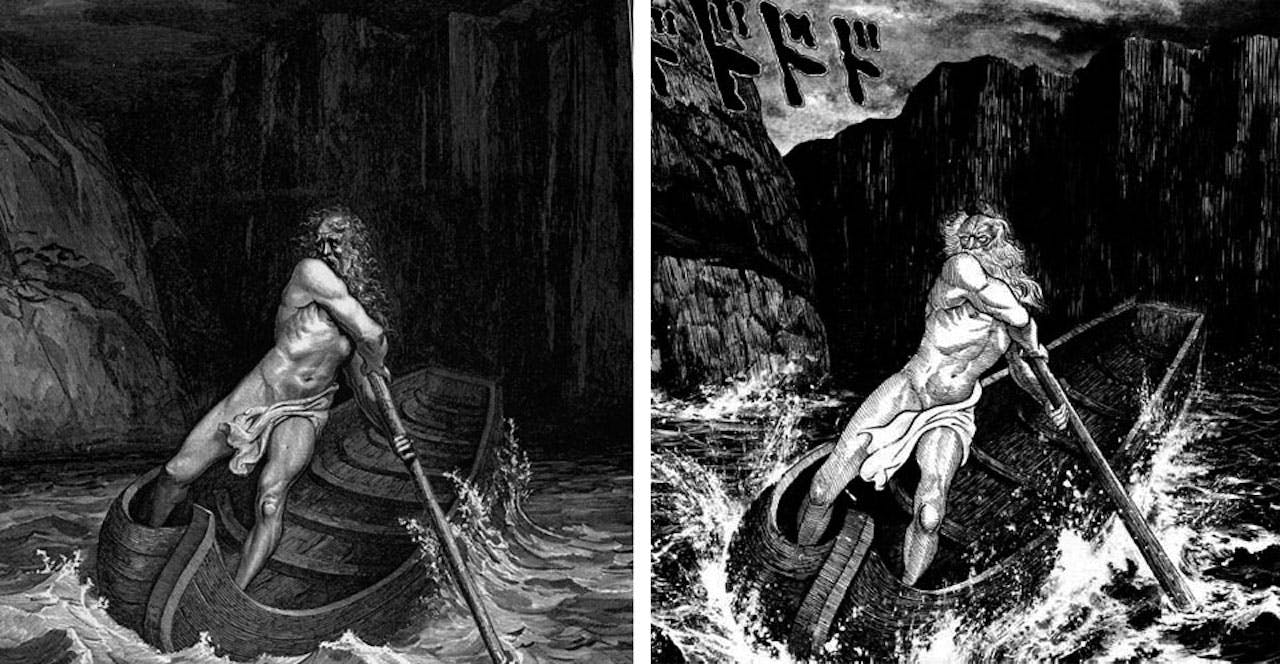 Charon, by Doré and Go Nagai. Source: Gtower.wordpress.com
The most influential of the many artists to have visually interpreted Dante's text over the centuries, (from Sandro Botticelli to Salvador Dalí), was Gustave Doré of Strasbourg, who between 1861 and 1868 created 136 panels of massive visual and narrative power. Doré's achievement was extraordinary indeed: translating the stages of Dante's journey into visual reality with traits of the horrific, almost like a gothic novel, his illustrations have since featured in all of the text's main editions.
Rapidly travelling the globe, Doré's illustrations self-evidently facilitated Dante's entry into mass culture. Indeed, they enacted a pragmatic reversal: many artists and readers have enjoyed Dante's text first and foremost through his images.
Consider Go Nagai of Japan, one of the world's foremost manga creators, who iconographically "translated" the entire Divine Comedy in 1994/1995.
Created in 2004/2005 with Marcus Sanders, Sandow Birk relocated his Divine Comedy to modern-day California.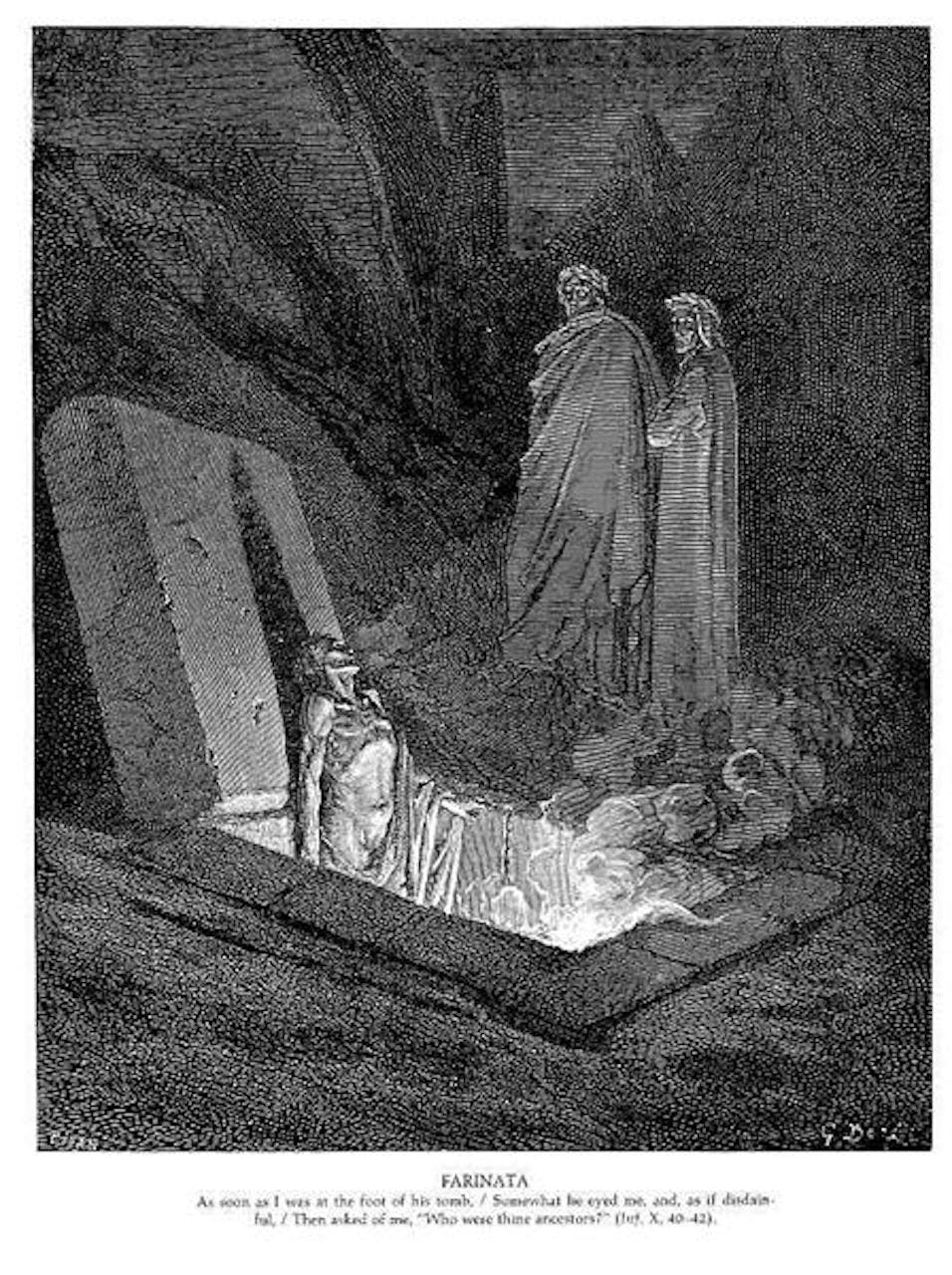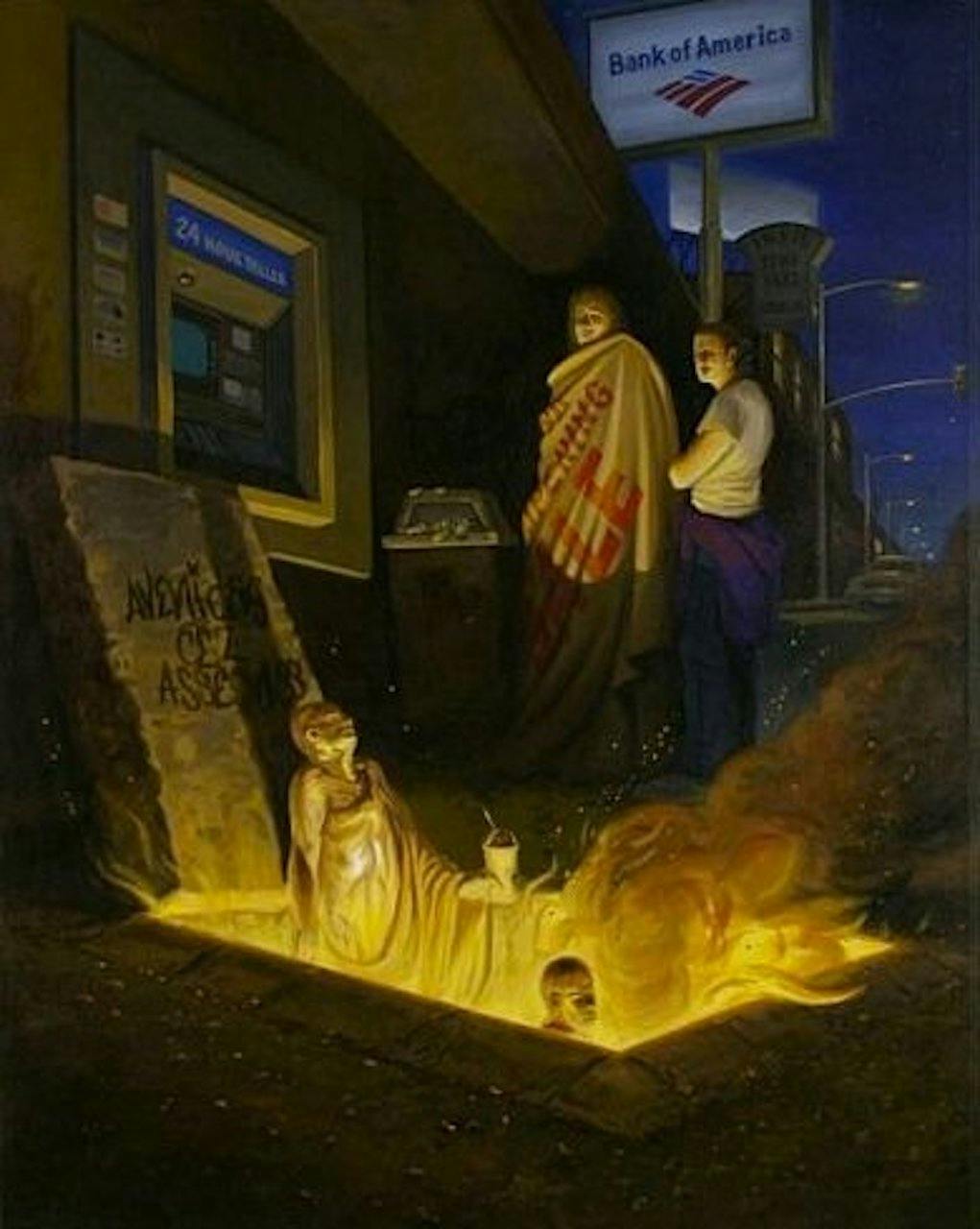 It goes without saying that Doré's model has been neither peacefully nor passively accepted. The relationship has often been dialectical: at the antipodes is the work of Rino Ferrari, who in 1964/1965 authored four large ink panels dedicated to the Inferno, after Renato Guttuso had gone beyond his template at the end of the previous decade, creating hundreds of updated panels and drawings.


Perhaps the most important cycle of visual works dedicated to the Divine Comedy in the twentieth century, however, is Texan artist Robert Rauschenberg's: in the early 1960s he produced thirty-four "mixed" technique panels, visually translating the first canticle of the Inferno, using Dante as a way of voicing his personal vision of contemporary America.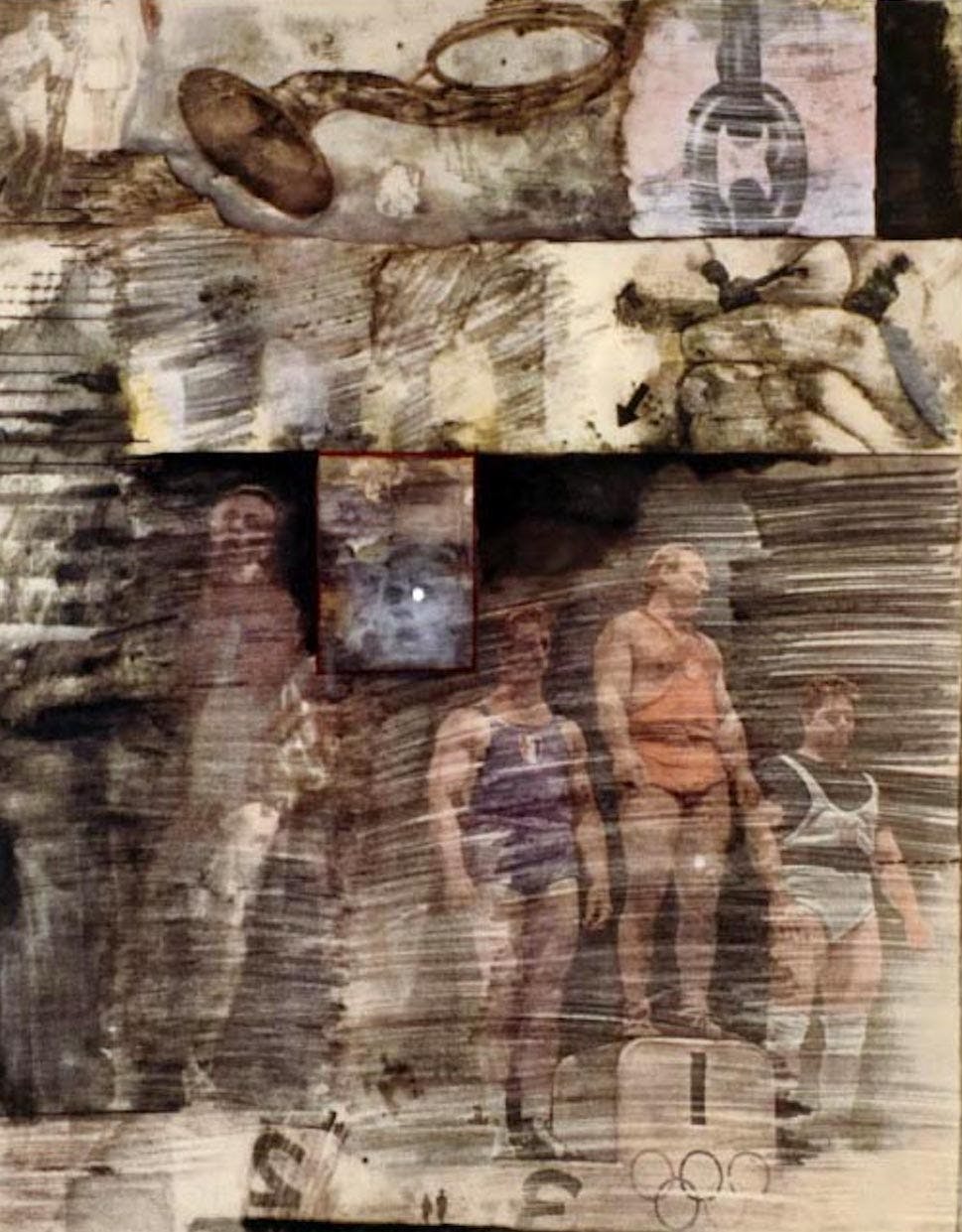 A panel from Robert Rauschenberg's work
Another interesting departure is Tom Phillips' postmodern artist's book, reworking traditional elements from a Pop perspective. Phillips also helped make the television series A TV Dante (1989) with director Peter Greenaway.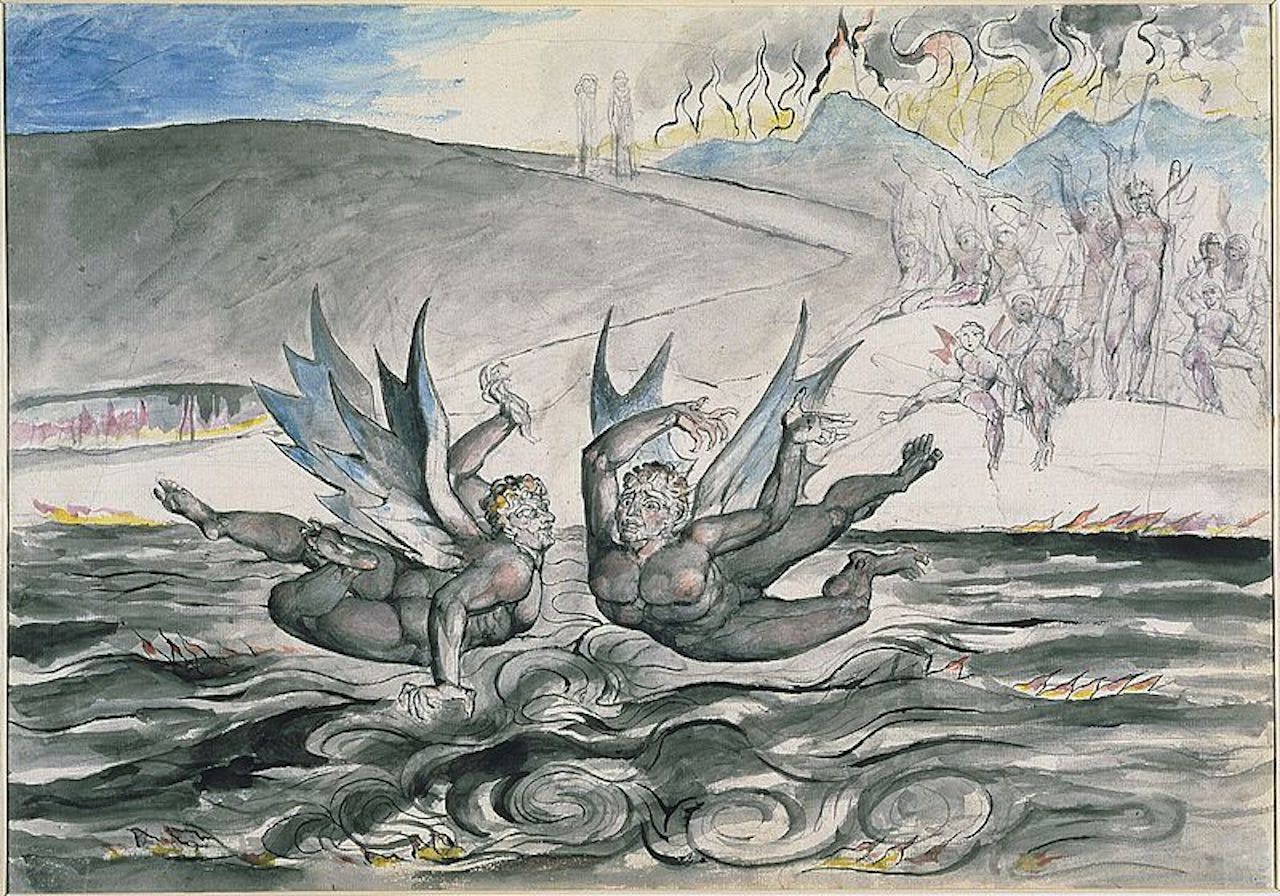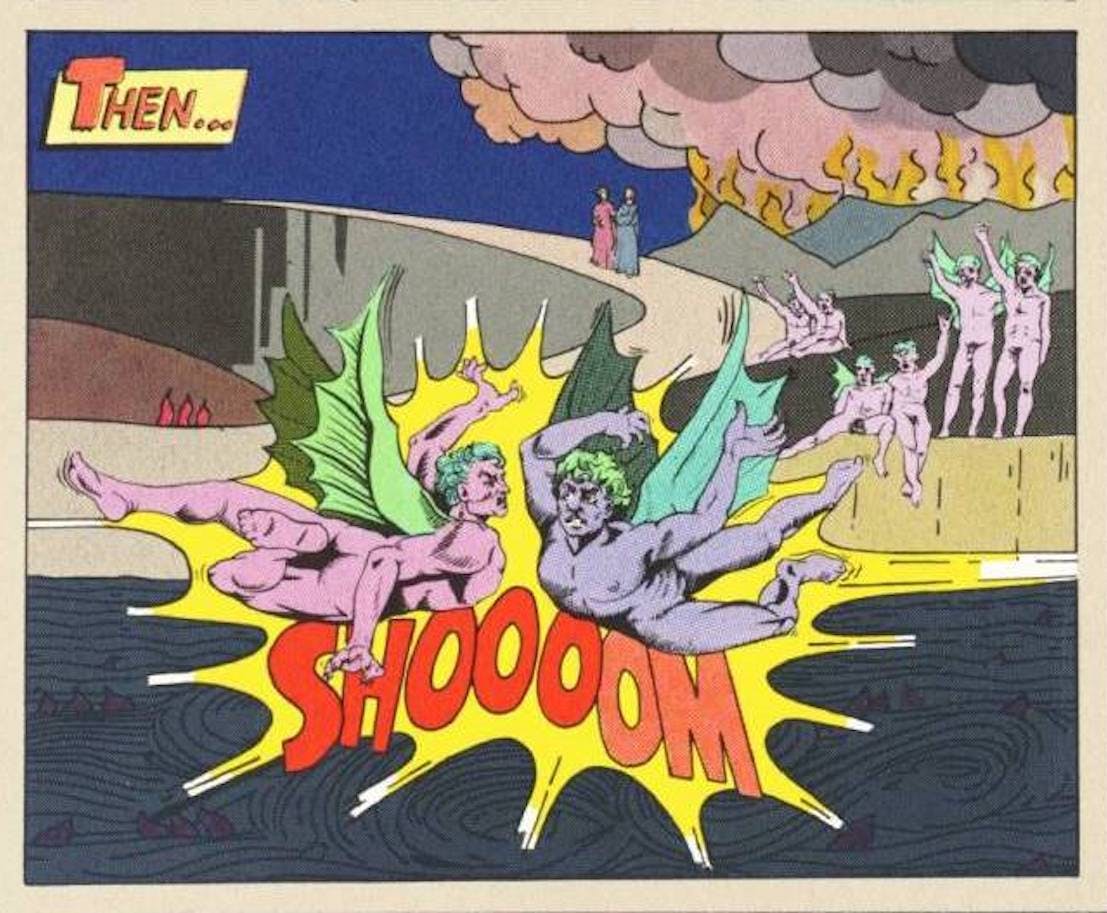 Illustrations of Dante's work – Doré's images in particular, not least his imposing painting dedicated to Virgil and Dante in the ninth circle of Hell currently on display at the Scuderie Quirinale in Rome at the ongoing Inferno exhibition – have helped turn the Divine Comedy from being first and foremost a "circular text" (that is to say, a text that, in the words of Roland Barthes on "memory", spontaneously comes to mind, first at a discursive level and then, subsequently, at a visual imagery level), into a "circular icon". Dante and his Divine Comedy are omnipresent not only when we think of the afterlife, travel or love, but when we conjure up the idea of Literature or Italy, concepts so vast and abstract that they would otherwise be hard to "visualize". No one is surprised that an author portrayed by Raphael and Botticelli, whose work has been illustrated by Doré and Dalí, and who has been on school curricula forever, has naturally and pervasively found a place in intellectual discourse and Pop culture, including Disney comics and comic strips (e.g. Guido Martina's recently republished L'inferno di Topolino, from 1949-50).
The "circular icon" is not, however, the final piece of the puzzle. We move on to advertising, which from its earliest beginnings has exploited Dante-related images, starting with Olio Dante (the first bottles exported in 1898). Italy's Poeta soon loomed over a technologically-advanced Olivetti M1 typewriter, followed by countless other advertisements of less epochal importance, including a recent Foxy ad, which everyone will remember (the work written on a very long and resistant roll of toilet paper), and modern-day campaigns by TIM and Magnum, which, it must be said, seem to have alighted upon Dante and the Divine Comedy more than anything else as a pretext to coincide with commemorations of the seven hundredth anniversary of his birth.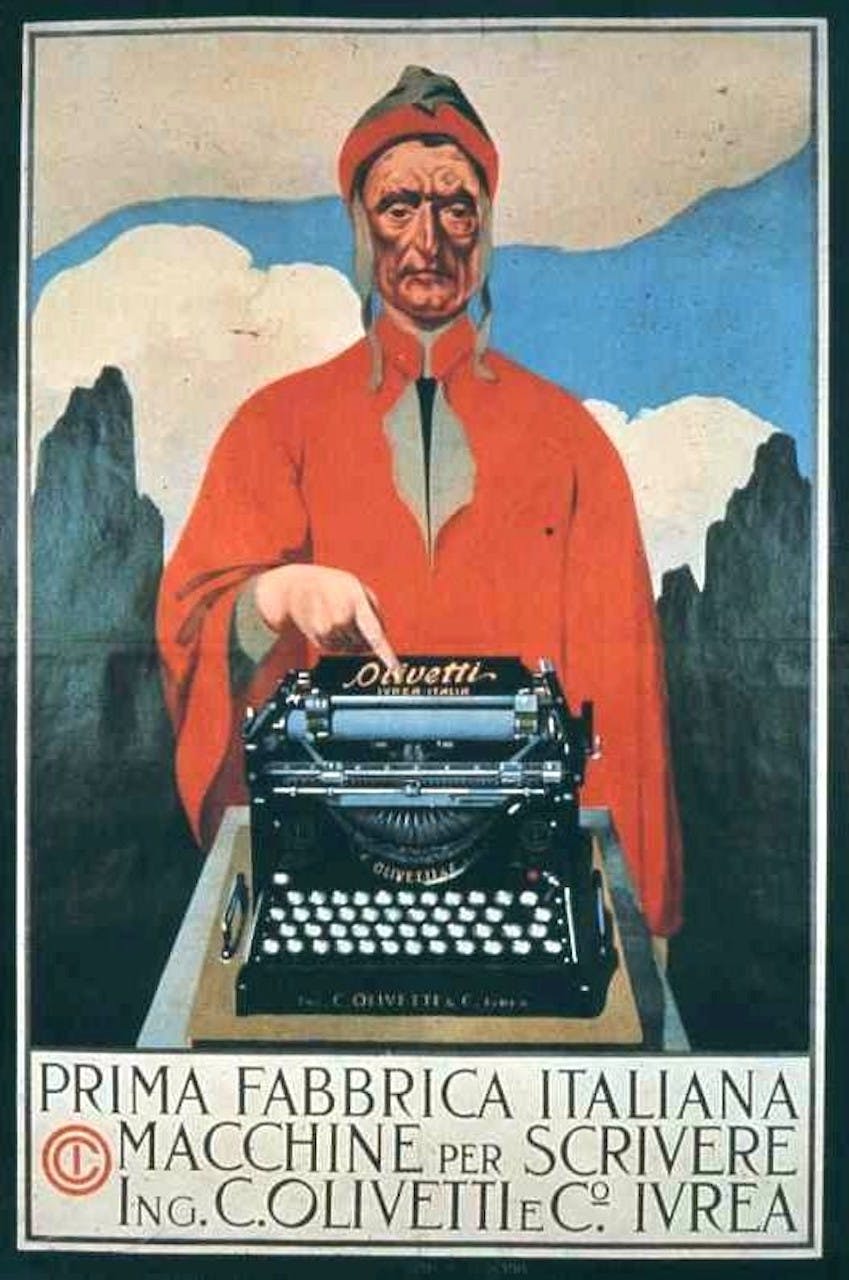 T. Wolf's poster for the Olivetti M1 typewriter. Source: storiaolivetti.it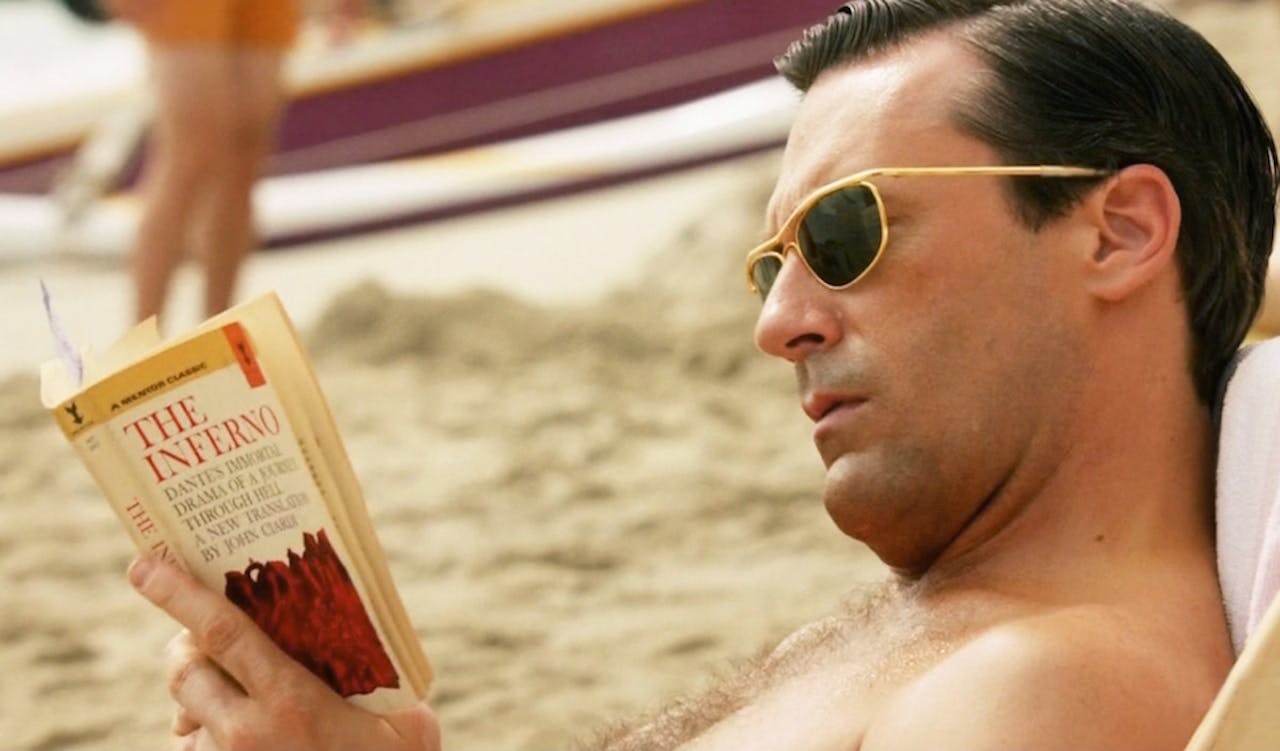 Mad Men, Season Seven, Episode 1-2 "The Doorway."
In brief, advertising has enthusiastically taken up the circular icon, carrying it beyond the threshold of branding: Dante and the Commedia – even if read, perhaps, rather infrequently – are immediately recognizable and referable to Italy.
The film world has made rather different use of this circularity. With its intrinsic creativity, untethered from reality in the strict sense of the word, the world of illustration has proven to be far more capable of representing infernal, purgatorial or paradisiacal images than – at least, not without great difficulty – the moving image. Attempts from the earliest days of cinema include L'inferno di Dante, a 1911 film by Francesco Bertolini, Giuseppe De Liguoro and Adolfo Padovan, with special effects very similar to Georges Meliès' Voyage. Since then, it's been more a case of merely metaphorical transpositions and imaginative references, such as Riccardo Freda's 1962 Maciste all'Inferno, and another textual fillip from Dan Brown's Inferno (2016), along with citations that are anything but immobile, as in Lars von Trier's The House That Jack Built. Mario Caserini's Dante e Beatrice, based on La vita nova, dating back to 1912, has been a kind of precedent for a major RAI project helmed by Pupi Avati (interviewed here by Birdmen Magazine) dedicated to the life of Dante, and scheduled for broadcast this year.
On the other hand, perhaps because it is less "reliant" on original texts, the echo of the Divine Comedy has achieved greater freedom and more convincing results in TV series. Aside from Mad Men's (Matthew Weiner, 2007-2015) status-symbol appropriation by Don Draper, the brilliant ad-man who reads The Inferno on the beach, otherworldly Dante-derived imagery pops up in The Good Place (Michael Schur, 2016-2020), Disenchantment (Matt Groening, 2018-present), Rick & Morty (Dan Harmon, Justin Roiland, 2013-present), and who knows how many other products we do not have the scope here to unravel.
In short, the text of the Divine Comedy has morphed from being simply a circular text into a circular icon, corresponding to a shift from being a linguistic, already imaginative memory, into a "vision" and a shared mental image. Via twentieth-century advertising it has become a brand, through movies a hard-to-reach horizon, and more recently in serial narration a "topos" that continues to be stratified for its symbolic and environmental structure.
The picture is a little more complicated when it comes to video games, because – and we may say this – of Dante's Inferno (the first in 1980, the last in 2010) and its definitive departure from the original (which does not, after all, exist); and because it would, with current levels of CGI, probably be possible to translate the infinitely interpretable, traversable text that is the Divine Comedy into a total work.
These observations offer us some idea of how, in the era of globalization, reinterpretations of the Divine Comedy are now addressed "to various user types, ready to 'freely' plunge into Dante's text, today considered more as a kind of generator of images than words." (Casadei).
And what of the theatre? In the midst of so much media schizophrenia, the theatre may give the work new life, miraculously combining the idea of a text (proffered) and an icon (presented) in a circular way, one example being the image and voice of Carmelo Bene from the Asinelli Tower in Bologna.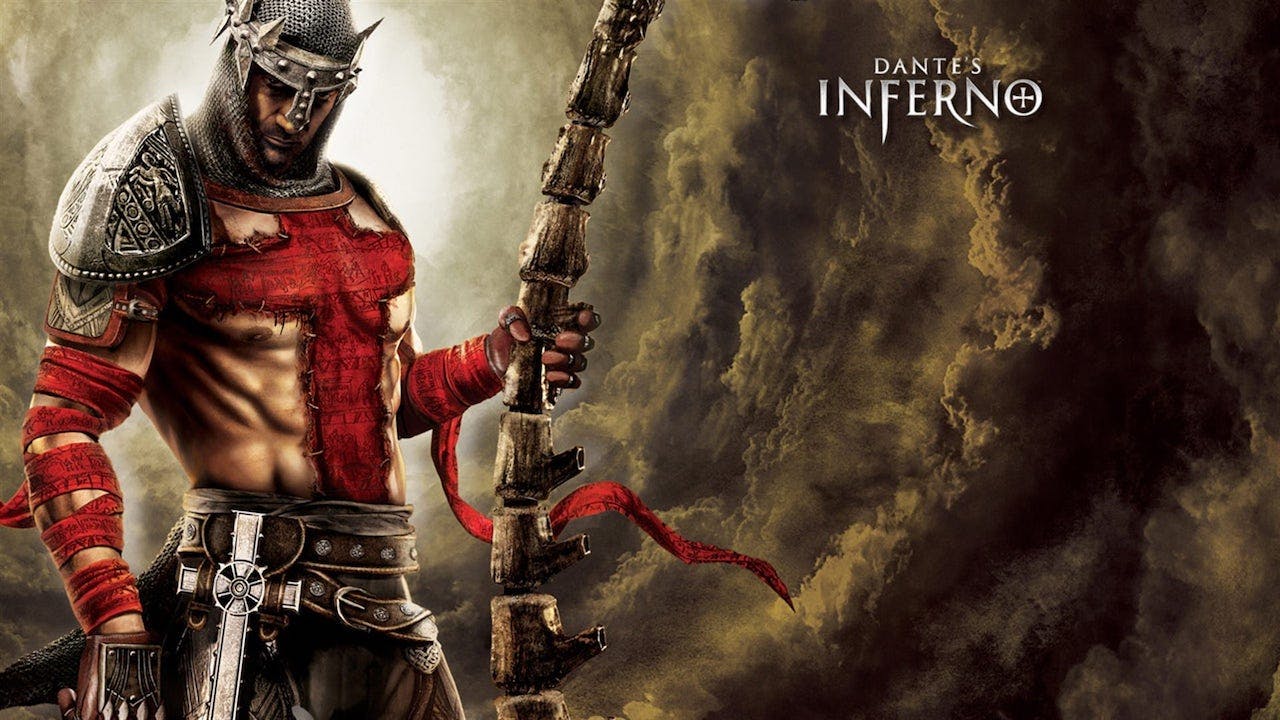 Dante's Inferno (video game, 2010)
Related events