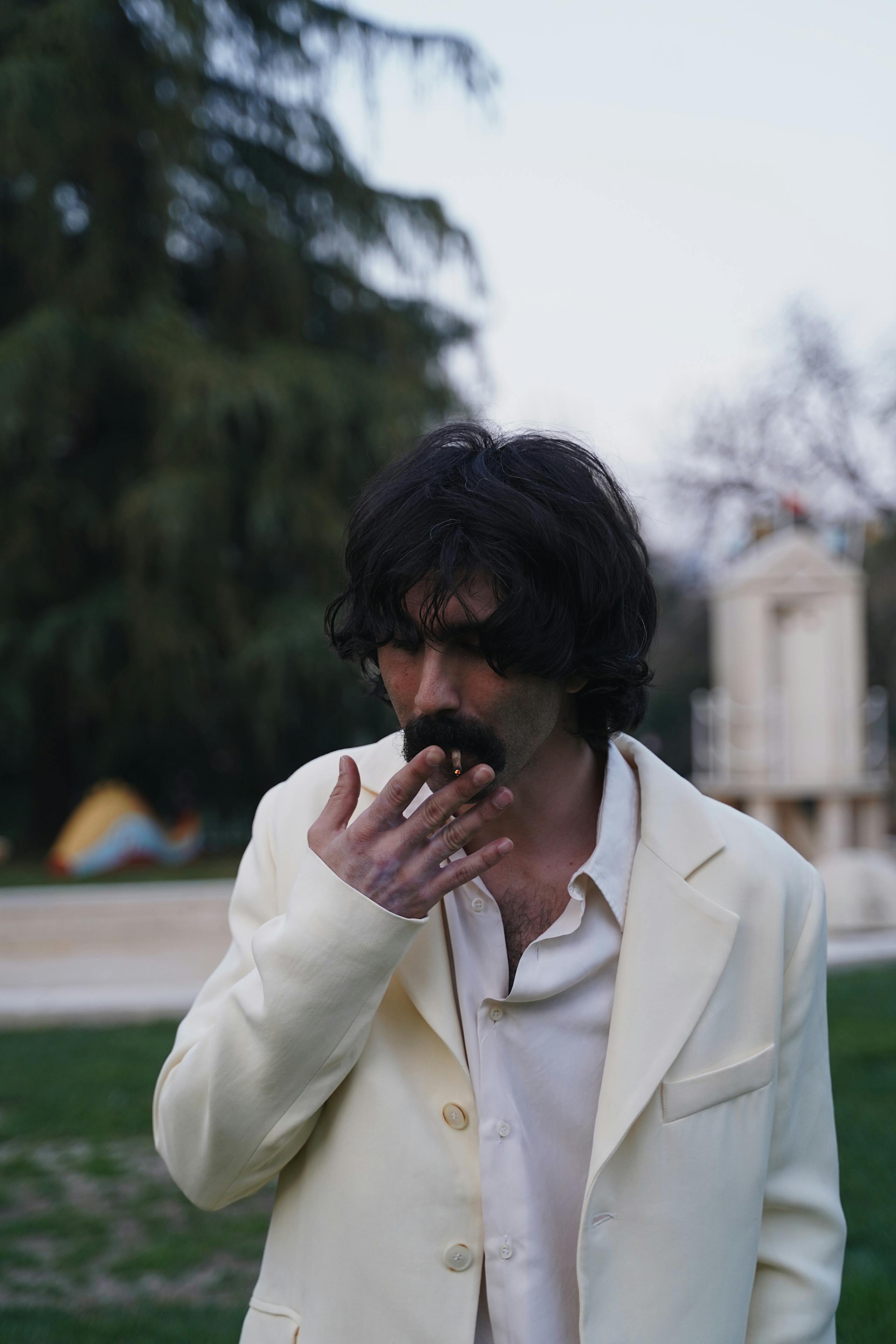 An interview with the Turin singer-songwriter Andrea Laszlo De Simone on the occasion of the screening of Il Film del Concerto
April 11, 2021
Carlo Pastore, the director of MI AMI, and the Turin-born singer-songwriter Andrea Laszlo De Simone discuss Il Film del Concerto [literally, "The film of the concert"] by Andrea Laszlo De Simone with the Immensità Orchestra.
The past year has transformed the ways in which music is consumed, with the loss of personal experience at festivals, concerts, and live shows, not to mention all the difficulties faced by the entire sector of entertainment workers. How has the MI AMI Festival experienced and responded to this moment of crisis? What possible solutions and strategies can be applied?
Carlo Pastore: To tell the truth, I still haven't fully assimilated the violence with which we've been torn away from sharing live music. From one day to the next we suddenly saw the heart of our business stop beating. MI AMI 2020 was practically ready to go when the first lockdown was declared, so we decided to put it out as "The festival that should have been". More than a hundred artists for three days of music that never happened. In the summer, however, we worked with the Circolo Magnolia to put on a festival as true pirates, because we just couldn't accept the idea that a city like Milan could have no live music. We called it Cuori Impavidi, nomen omen. In 2021, on the other hand, we have started drafting our Manuale per restare vivi – a highly personal "Handbook for staying alive" – an attempt to transform this never-ending awful situation into one in which we can experiment. Since we can't put on MI AMI – which has been postponed yet again until September – we've decided to transform our loss into ̶M̶I̶ ̶A̶M̶I̶ MI MANCHI, a travelling review of hybrid shows, in presence (wherever possible) and live-streamed, around the city. The first event is highly ambitious, and site-specific both for and with Triennale Milano. It will be a live-streamed Il Film del Concerto by Andrea Laszlo De Simone, the Turin-born singer-songwriter – whom Libération magazine in France has referred to as the "new prodigy of pop" – who is adored by international critics and by Radio Deejay. Andrea has imagined a journey from darkness to light, as a message of rebirth. It will not be a live-streamed concert, for we are not trying to replicate a "real" live experience: that would be doomed to failure. Rather, it will be a cinematographic, dreamworld transposition of a concert like no other.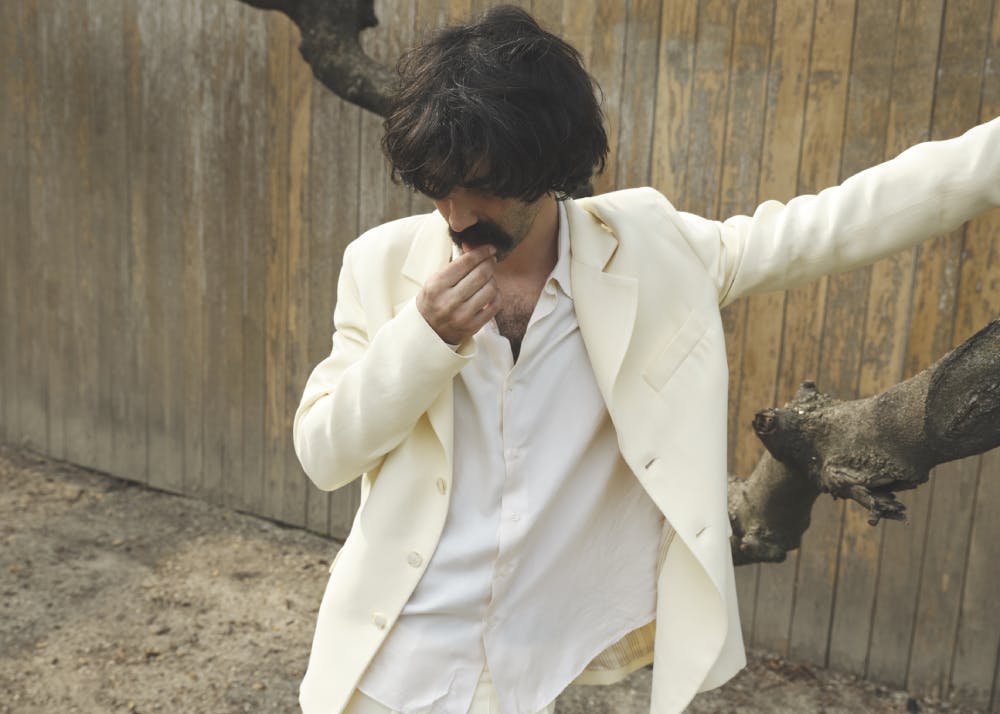 Andrea Laszlo, photo Camilla Riccardo Studio
In your presentation of Il Film del Concerto, you talk about happiness and dreams. Why do you choose these terms which, as you yourself admit, carry a heavy burden and an often somewhat unsavoury reputation?
Carlo Pastore: The right to happiness is one of the pillars of the Declaration of Independence of the United States of America, just as the idea of a social "dream" – viewed as key to building one's own success – is American. That's why I rarely use these words: happiness and dreams bear a heavy burden and, above all, they've been used to rip people off (giving them their often shady reputation). But here I feel I can use them both with a clear conscience. Being able to go back to work on a concert, in an amazing place like Triennale, has given us happiness in the sense of gratification, as well as inspiration for the future. Secondly, what Andrea has thought up is a dream in the Fellinian sense – the creation of something beautiful and highly imaginative. Ultimately, IlFilm del Concerto is a ride at the funfair to release us from the monsters of the present. All aboard!
Il Film del Concerto (Trailer) – Andrea Laszlo De Simone in Triennale
How did the idea Il Film del Concerto come about? It's a very challenging, hybrid, immersive experience, in which the physical world meets the digital, making it a key part of its consumption. Who have you involved in this project? How's it organised?
Andrea Lazslo De Simone: Well, like most things, Il Film del Concerto came about partly by chance, partly out of necessity. A while back, I was offered the chance to do a live stream, but it's a format I've never been that keen on. As I see it, the lack of an audience in front of you and the risk of technical issues while live-streaming mean the spectators can never really enjoy the show to the full. So I started working out a formula that wasn't just going to be a pale imitation of live music but that, at the same time, would be compatible with the limitations of the period we're going through. What is Il Film del Concerto? First of all, it's a concert, but it's designed for digital consumption and to be a high-quality product in every respect. That's the big difference between this "digital event" and the live streaming we're used to. It's a concert with a real director. Fabrizio Borelli has worked with Ettore Scola, Andrei Tarkovsky, Luigi Comencini, and Ermanno Olmi and he's built up decades of experience in television – especially in live broadcasting. Then, let's face it, how often in life does one have the chance to use the spaces of Triennale Milano? I didn't want to miss the opportunity to play in a place where performances are not normally put on. Everything you'll see and hear is the work of various professionals coordinated to perfection and inspired by a truly rare feeling of attention and participation. I really do thank Daniele Citriniti, who has always been with me with his energy and ideas, Carlo Pastore, who's thrown himself into this adventure with courage and tremendous passion, and Triennale Milano for their exceptional openness and help. The list of thanks is far too long to give in an interview, but… it'll sail gently by in the credits.
Il Film del Concerto (Trailer) – Andrea Laszlo De Simone in Triennale
What's it like to create music in relation to a space and to interact with it – in this case with the very distinctive architecture of Triennale, which is being specially opened for this unique occasion?
ALDS: The setting – the physical location – is fundamental for the perception of music. In this particular case, I haven't composed music specially for the spaces at Triennale, but I must say that the experience there has been quite electrifying. An emotion like no other.
Can you give us an idea about what you call "a journey from darkness to light"? With how many senses do you want to interact with your performance?
ALDS: Some people will have noticed that I have a certain tendency to construct my music around a particular meaning. The Suite Immensità is a spiralling journey that revolves around the process of mourning in order to achieve a rebirth. It consists of four chapters: Dreams, Reality, Space, and Time. The last song I released, however, is called Vivo and it's an ode to life and its inevitable precariousness. Conceptually, it's the natural epilogue to the suite. All this is what I see as a journey leading "from darkness to light". Living it and playing it while making Il Film del Concerto was just an amazing experience for me.
Related events