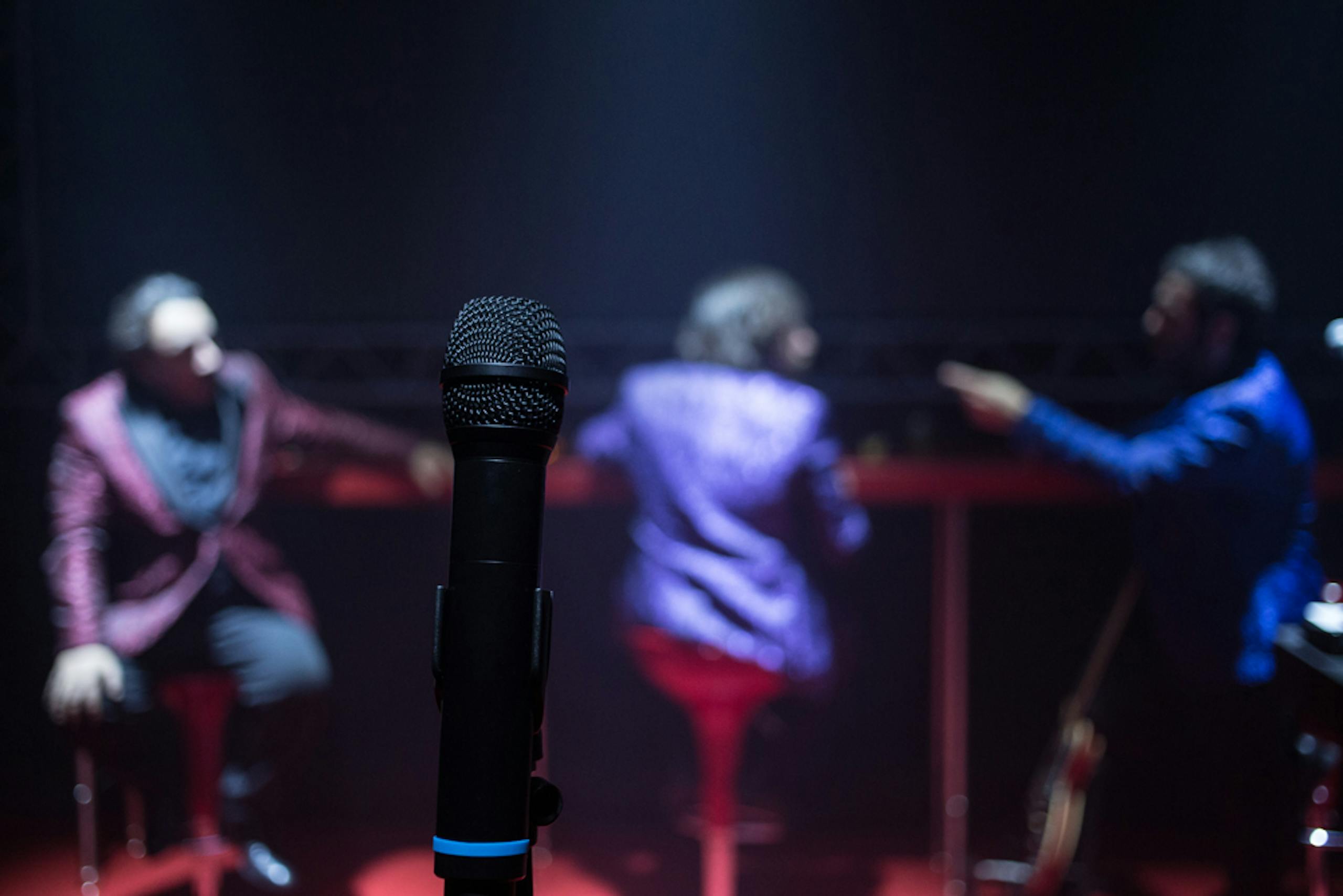 Stanno tutti male
Riccardo Goretti, Stefano Cenci, Colapesce
Stanno tutti male is a tragicomic karaoke that sings everyone's troubles. "I am not well" – an expression we use so often that it's lost its meaning. Headache, heartache, tummy ache, existential malaise. We live in a frenzied world in which, if you are not in pain, it means that you are not working hard enough. With this work, Riccardo Goretti, Stefano Cenci e Lorenzo Urciullo (aka Colapesce) offer a caricature of contemporary existence. Why is everybody unwell? How do we measure our wellbeing? These are some of the questions that the artists asked their followers on social media: filtering and mixing hundreds of answers, the eclectic trio has composed, with comical effects, a collage of emotional states. The result is a collective study of individual miseries.
After graduating from the Scuola di Teatro "Galante Garrone" in Bologna, Stefano Cenci has collaborated with Teatro Due (Parma), Arena del Sole (Bologna), Teatro Comunale di Bologna, until he became assistant director and actor for Armando Punzo's Compagnia della Fortezza. In 2004, I Pescecani, in which he had a leading role, won the Ubu prize for best performance. In 2010 Alice - Saggio sulla fine di una civiltà won the Ubu prize for best direction.
In 2010, his piece Ofelia in quattro e quattr'otto, a poignant and exhilarating restaging of 4.48 Psychosis by Sarah Kane, premiered at VolterraTeatro Festival. In 2011, in collaboration with Emilia Romagna Teatro, he produced the piece Del Bene, Del Male, by and with Stefano Cenci, la Compagnia Tardito/Rendina, and a 70-strong cast of surprise guests and live musicians. The show is an immersive project with ritualistic aspects, which draws poetic and human material from its surrounding context. Since 2007, he has been artistic director of Arti Vive Festival and Arti Vive Habitat, which promote experimental theatre, independent music and quality cinema (Soliera, Modena).
Riccardo Goretti, born in 1979, is an actor, writer, dramaturg and musician. Following his formative years making theatre for young people, he entered the world of contemporary theatre with the group Gli Omini, with whom he was shortlisted for the 2007 Premio Scenario and won the Teatro della Tosse contest in Genoa. In 2010/11, he collaborated with Massimiliano Civica (three-time winner of the Ubu prize) on the piece Un sogno nella notte dell'estate, produced by Romaeuropa Festival and Teatro Stabile dell'Umbria. In 2012 he started a journey of artistic research. Annunziata detta Nancy, his first monologue, produced by Kilowatt Festival, was performed over 100 times. Since 2016/17, he has worked with the director and dramaturg Lucia Calamaro, staging La Vita Ferma – sguardi sul dolore del ricordo. The piece, declared a masterpiece by Italian critics, toured in Italy and internationally. The monologue Gobbo a Mattoni, produced by Arci Toscana, won the Festival Inventaria in Rome. Goretti is also an educator and is author of Manuale pratico per non impazzire (Cult Editore) and That's all, folks! (Firenze Leonardo editions).
Lorenzo Urciullo (aka Colapesce) is a brilliant and free-thinking talent of Italy's new music scene. His three albums (Un meraviglioso declino, Egomostro, Infedele) have been acclaimed by audiences and critics thanks to his unique talent, which combines pop music with pure experimentation.
After being awarded the 2012 Premio Tenco for best first album with Un meraviglioso declino, he has continued to produce inventive work that draws on his talent as songwriter, on pop influences and on experimentation. In 2015, he wrote the graphic novel La distanza with Alessandro Baronciani. In 2016, he created a documentary on the work of the documentary director Vittorio De Seta. The Guardian describes him as a prime example of Italian music for export. Le Monde labelled him the most credible heir of Lucio Dalla and Franco Battiato, listing Egomostro as one of the best albums of 2015. As a songwriter, he regularly collaborates with well-known figures of Italian pop. In 2019, twenty years since Fabrizio De André's death, Sony Legacy released his cover of Canzone dell'amore perduto.
...more
Calendar
Thursday, November 28 2019, 7.00pm
Friday, November 29 2019, 7.00pm
Saturday, November 30 2019, 7.00pm
Sunday, December 1 2019, 3.00pm