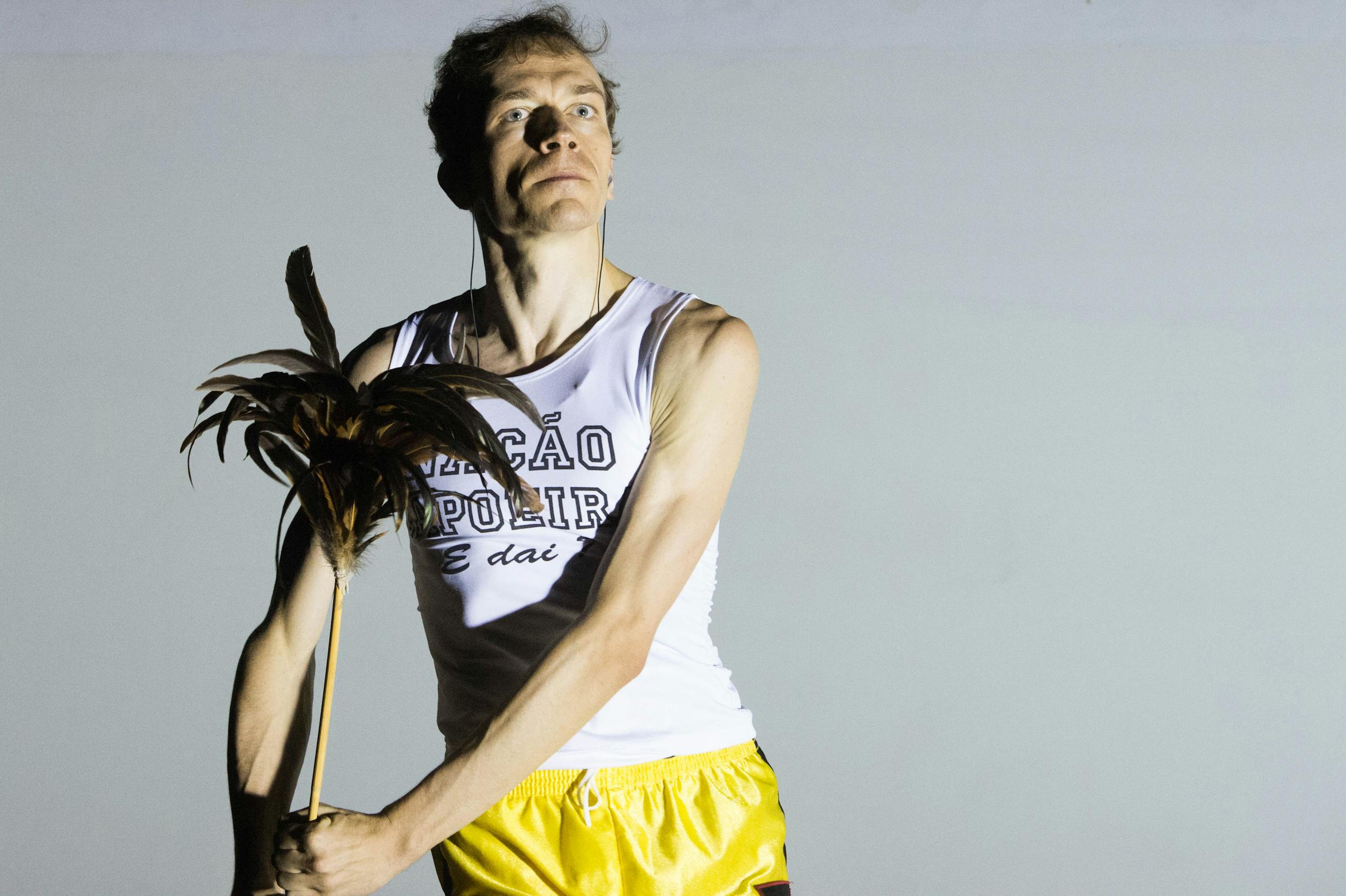 Corcovado
Luigi De Angelis, Michele Di Stefano, Lorenzo Gleijeses
Running time 50'
Premiere
An engaging meditation on the theme of travelling, Corcovado questions the isomorphism between movement and speed, typical of contemporary hypervelocity, thinking anew the concepts of journey and exploration. Recreating the quintessential non-place of today's experience of travelling, the luggage room of any airport, Luigi De Angelis' direction and Michele Di Stefano's choreography plays with an obsessive coming-and-going of bodies, gestures and objects. Among these, the body of the performer Lorenzo Gleijeses is caught in a centrifugal and disorientating vertigo, under the watchful eye of a silent guardian, Manolo Muoio.
Luigi De Angelis is a director, scenographer, light-designer and musician. In 1992, he founded the company Fanny & Alexander, with Chiara Lagani. Fanny & Alexander's performances have been presented in Italy and internationally in the most important festivals and theaters. In 2015, De Angelis directed Il Flauto Magico at Bologna's Teatro Comunale. In 2017 he curated the concept, direction and lighting design of the piece Serge, inspired by the life of Sergei Diaghilev, with Solistenensemble Kaleidoskop from Berlin. For Fanny & Alexander, he curated the direction, music, set and lighting design for a project based on Elena Ferrante's cycle L'Amica Geniale, with Fiorenza Menni and Chiara Lagani, presented at Napoli Teatro Festival and Ravenna Festival in 2018. In 2018 he has directed Se questo è Levi, winner of the 2019 Ubu Special Prize.
Michele Di Stefano, choreographer and performer, is the founder of MK, with Biagio Caravano. The company has been presented at the most renowned experimental festivals and in 2020 was resident company at Rome's Teatro India for the project Oceano Indiano. MK's work spans across performance, choreography and sound art. Among the group's most recent productions are: Robinson and Parete Nord, with the musician Lorenzo Bianchi Hoesch, and Bermudas (2018 Danza&Danza prize). In 2014 the Venice Dance Biennial awarded Di Stefano the Silver Lion. In 2019 the piece Bermudas_forever won the Ubu Prize for best dance performance.
Lorenzo Gleijeses is an actor, director and performer; he trained with international masters of the likes of Lindsay Kemp, Eimuntas Nekrosius, Yoshi Oida, Eugenio Barba, Jerzy Grotowski's Workcenter, Augusto Omolù, Michele Di Stefano/MK. He has worked as an actor for Nikolaj Karpov, Julia Varley of Odin Teatret, Mario Martone, Egumteatro, Cesare Lievi, Rafael Spregelburd, Emiliano Bronzino, Fanny & Alexander, Alfredo Arias, Andrej Konchalovski, Eugenio Barba, Luigi Squarzina. He has conceived the project 58° Parallelo Nord, from which sprung Corcovado and Una giornata qualunque del danzatore Gregorio Samsa, which was co-directed with Eugenio Barba and has been on tour since the beginning of 2019. Winner of the Ubu Prize as New Actor in 2006.
...more
Calendar
Thursday, July 15 2021, 5.00pm
Thursday, July 15 2021, 7.00pm
Friday, July 16 2021, 5.00pm
Friday, July 16 2021, 7.00pm
Saturday, July 17 2021, 5.00pm
Saturday, July 17 2021, 7.00pm