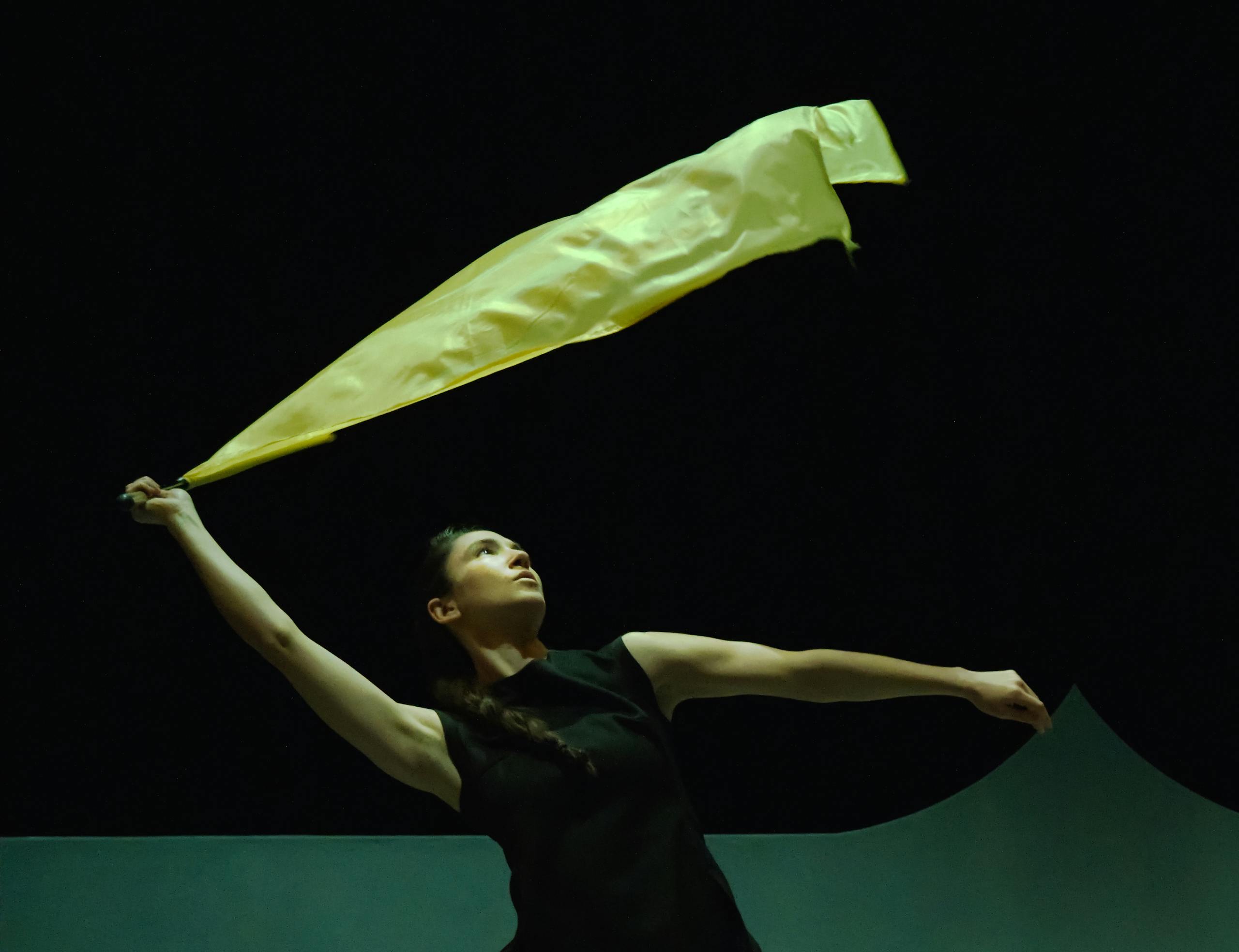 ARA! ARA!
Ginevra Panzetti / Enrico Ticconi
In ancient times, chimerical beings and oneiric figures used to appear on coats of arms and shields to tell stories of conflicts fought on battlefields. The gaudy colours and the fantastical creatures of heraldic symbols hint at political tensions, expressions of belonging, dominance and power. ARA! ARA! represents a growing power symbolised by an unusual animal – not a majestic and fearsome raptor, but a cheerful and lively bird of exotic character: a parrot. The second part of a diptych started with AeReA (winner of the first Premio Hermès Danza Triennale Milano), ARA! ARA! draws on the folkloristic tradition of flag waving. For the young artists Ginevra Panzetti and Enrico Ticconi, the image of the flag becomes vehicle of a profound reflection on the political nature of personal and collective relationships.
Berlin-based Ginevra Panzetti and Enrico Ticconi have been an artistic duo since 2008. Their artistic research interlaces dance, performance and visual art. Deepening themes related to the historical union between communication, violence and power, they create hybrid figures or images between history and contemporaneity. They both graduated from the Academy of Fine Arts in Rome and attended the Stoà, the school for rhythmic movement and philosophy led by Claudia Castellucci. In 2010 they moved to Germany and delved into individual, yet mutually complementary paths: Enrico trained in dance and choreography at the Inter-University Center for Dance (HZT) in Berlin, while Ginevra studied intermedial Art at the Hochschule für Grafik und Buchkunst (HGB) in Leipzig. In 2019 they won a range of awards: the 13th Arte Laguna Prize for the site-specific performance Jardin/Arsenale, the first edition of Premio Hermès Danza Triennale Milano, the Danza&Danza prize as emerging choreographers; they were also nominated "Promising Talent of the Year'' by Tanz magazine. With the work Harleking they have been selected by the European platform Aerowaves 2019, the New Italian Dance (NID) Platform and by Tanzplatform Deutschland 2020.
...more
Calendar
Tuesday, July 20 2021, 5.30pm
Wednesday, July 21 2021, 5.30pm