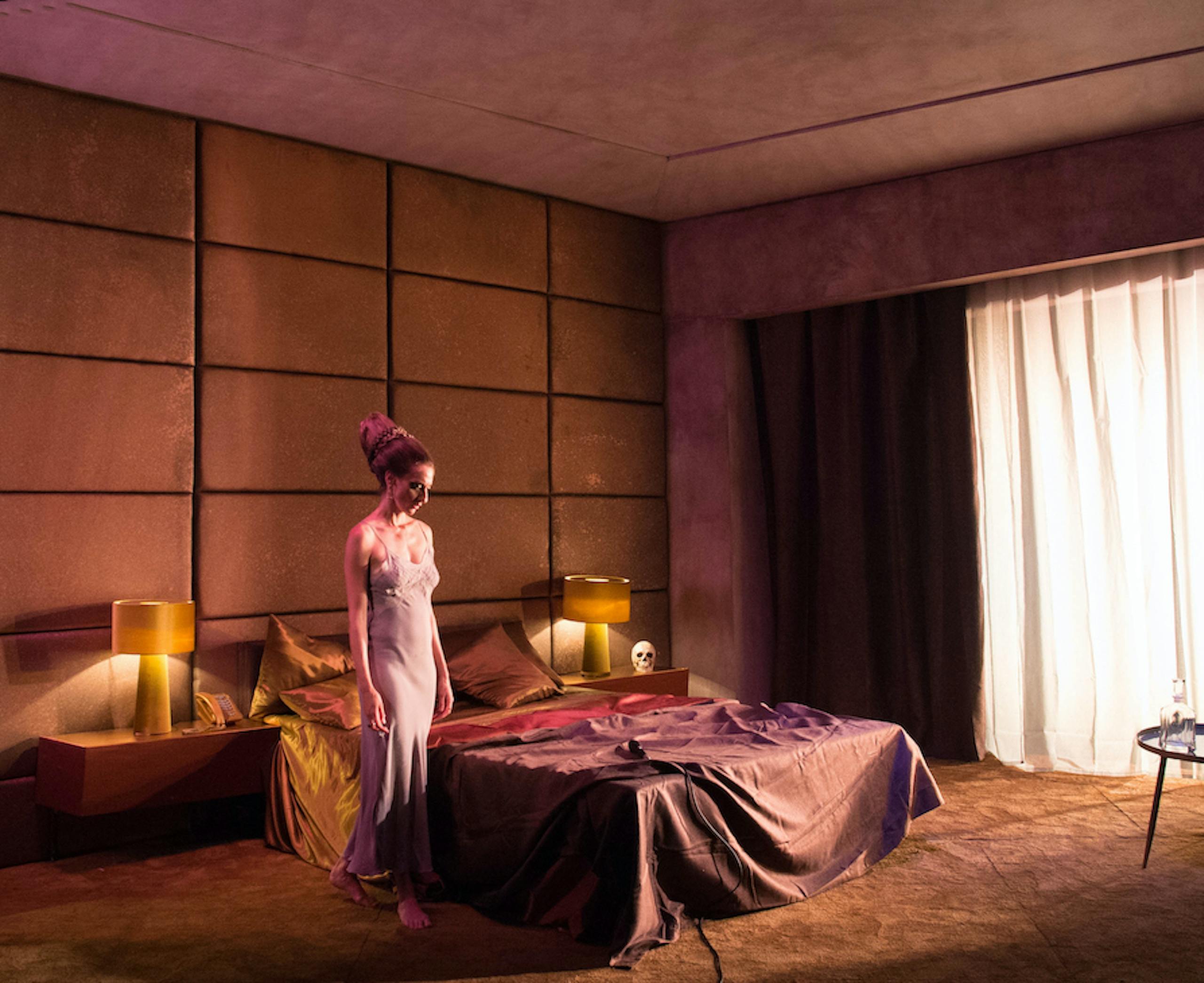 Cleopatràs
Valter Malosti / Anna Della Rosa
A harrowing monologue dealing with the mystery of love, Cleopatràs is one of Giovanni Testori's last works, from the Tre Lai tryptic which explores three classical figures. In a reimagined Egypt, which is inserted in the author's local topography of the Valassina valley in northern Italy, Cleopatra laments her beloved Antonio and retells her life's falls, afflictions and reparations. The text's linguistic innovation gives the heroin a worldly and sensual quality in the masterful interpretation by Anna Della Rosa, multi-award-winning theatre actress, also hailed for her big-screen roles. The set is both abstract and very real and is immersed in a visual and sound installation which travels through Puccini, the contemporary Egyptian music scene and electronic vibes. The highly acclaimed Italian director and actor Valter Malosti returns to Giovanni Testori as a reference author to grapple with and revive.
Director, actor and visual artist, Valter Malosti creates work that focuses on the transversality across art forms, balancing tradition and experimentation. His performances have been awarded several international and national prizes. Among these are: the Flaiano prize for Venere in pelliccia by David Ives, the UBU prize for Quattro Atti Profani by Antonio Tarantino, the Associazione Nazionale Critici di Teatro prize for Shakespeare/Venere e Adone, the Hystrio prize for Giulietta by Fellini. Inverno by Jon Fosse was awarded the UBU prize as best foreign text staged in Italy. Malosti has directed works by Nyman, Tutino, Glass, Corghi and Cage, often as premieres. As an actor, Malosti has worked for many years with Luca Ronconi for the theatre and with Mimmo Calopresti, Franco Battiato and Mario Martone for the cinema. Between 2010 and 2017 he directed the acting school of Turin's Teatro Stabile. He was artistic director of the Teatro di Dioniso company for almost thirty years. Between 2018 and 2021 he directed TPE - Teatro Piemonte Europa in Turin. In May 2021 he was appointed director of ERT- Emilia Romagna Teatro.
Anna Della Rosa is an Italian actress who graduated from Scuola d'Arte Drammatica Paolo Grassi and trained further with Luca Ronconi and Massimo Castri. Her debut performance was in Peter Stein's Pentesileaand Medea at Teatro Greco in Syracuse. She played Giacinta in Trilogia della villeggiatura by Carlo Goldoni directed by Toni Servillo. For this performance she was awarded the Premio ETI Gli Olimpici del Teatro as best emerging actress and the 2009 Virginia Reiter prize. She was leading character directed by Lluís Pasqual in Blackbird by David Harrower. For this performance she was awarded the Marisa Bellisario prize and the Duse prize as best young theatre actress. Among other roles for theatre and cinema, she was lead actress in works directed by Pascal Rambert, Marco Bellocchio, Andrée Ruth Shammah, Davide Livermore, Rosario Lisma, Marco Baliani, Valter Malosti, Veronica Cruciani, Simone Toni, Martin Kusej. She played the role of Ragazza Esangue in the Oscar-winning film The Great Beauty by Paolo Sorrentino.
...more
Calendar
Friday, October 15 2021, 5.30pm
Saturday, October 16 2021, 5.30pm
Sunday, October 17 2021, 2.00pm