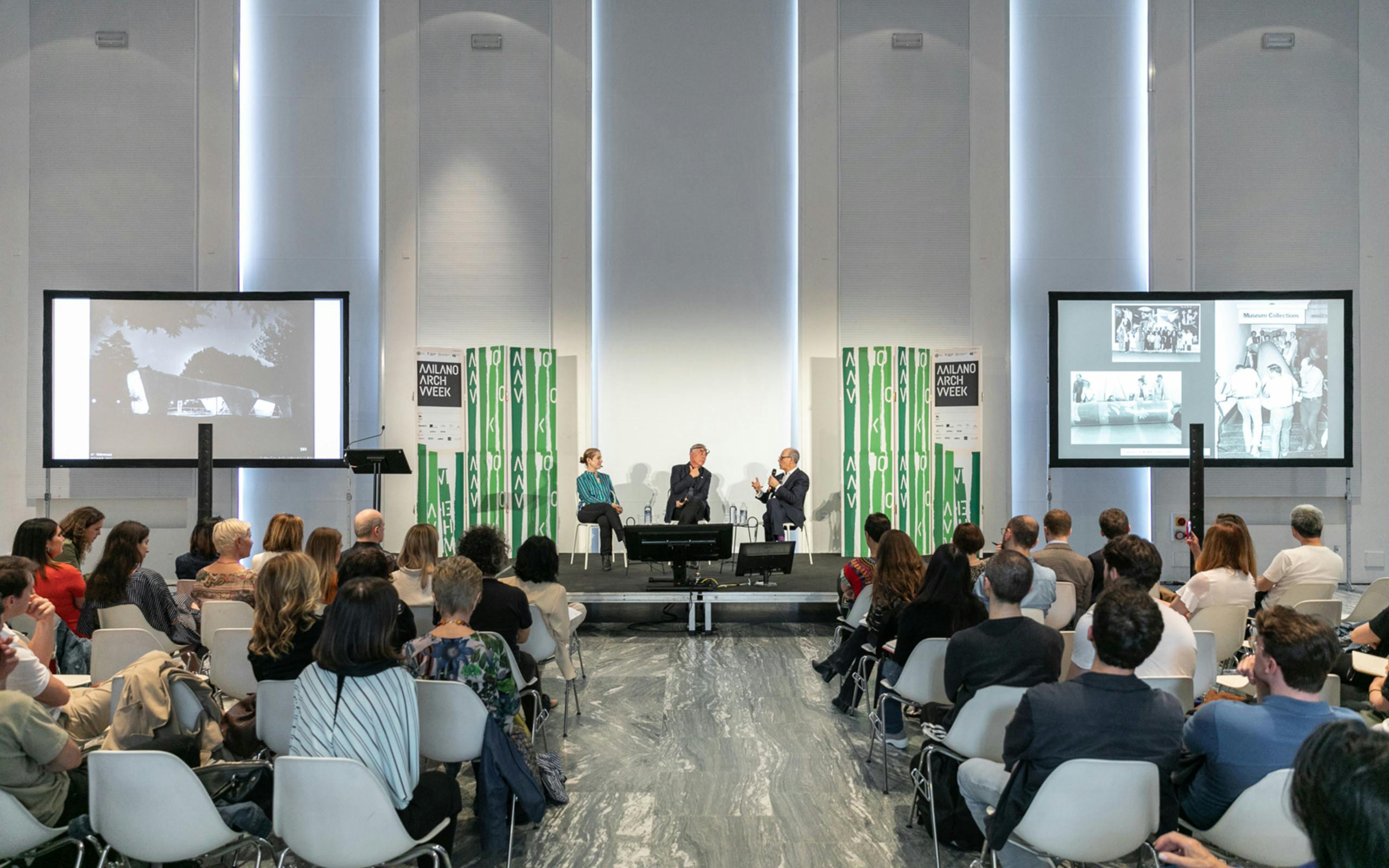 A week full of meetings and guests to address issues such as environmental sustainability, technological development, migration phenomena and social transformations.
Wednesday 22 May
H. 11:00 – 13:00 | IN PERIFERIA FA MOLTO CALDO
Con Lorenzo Lipparini / Assessore alla Partecipazione, Comune di Milano, Francesca Cognetti / Mapping San Siro DAStU Politecnico di Milano, Isabella Inti / Temporiuso.net, progetto GreenLivinglab San Siro, Claude Marzotto / òbelo e Maurizio Murino / spaziopensiero, la città dal punto di vista dei bambini, Bertram Niessen / cheFare, (progetto Civic media art) arte ad Adriano, Gilberto Sbaraini / Coop La Strada, progetto Made in Corvetto, Marta Aiello / Terzo Paesaggio, progetto l'anguriera a Chiaravalle. Modera Noemi Satta / Lacittàintorno, programma triennale di rigenerazione urbana di Fondazione Cariplo
Thursday 23 May
H. 9:00 – 13:30 | CONCLUSIONE CONSULTAZIONE PUBBLICA MASTERPLAN "AGENTI CLIMATICI" - RIGENERAZIONE DEGLI SCALI FARINI E SAN CRISTOFORO
Focus su Scalo San Cristoforo. Con OMA, Laboratorio Permanente, Philippe Rahm Architects, Vogt Landscape Architects, Ezio Micelli, Temporiuso, Arcadis e Net Engeneering. A cura di FS Sistemi Urbani e COIMA SGR, in collaborazione con Comune di Milano
H. 11:00 – 12:00 | PRIMO PREMIO NAZIONALE DI ARCHITETTURA
H. 15:00 – 16:00 | CORRISPONDENZE, INCONTRI E VISIONI REGISTRATE DAL FINESTRINO
Christian Chironi in conversazione con Bianca Felicori su Milano Drive. In collaborazione con FOG
H. 16:00 – 17:00 | LOTUS ALTERED LANDSCAPES
Con Nina Bassoli, Maite García Sanchis, Michele Nastasi, Gaia Piccarolo. A cura di Redazione di "Lotus International"
H. 18:30 – 20:00 | MACHINE(S) OF LOVING GRACE
A cura di Francesca Luci / CAPTCHA, Margherita Marri / CAPTCHA, Andrea Mologni / CAPTCHA, Luigi Savio / AbNormal con Azzurra Muzzonigro e Nina Bassoli. Discutono Sofia Pia Belenky / Strelka The New Normal, Nicolay Boyadjiev / Strelka The New Normal, Ippolito Pestellini laparelli / OMA, Niccolò Ornaghi / Raumplan
H. 19:00 – 20:00 | DESIGN ET DURABILITÉ EN ALGÉRIE ET ITALIE / DIDAPRESS
Book presentation, con Giuseppe Lotti e Valentina Frosini. Introduce Laura Agnesi
Friday 24 May
H. 9:00 – 13:00 | CONCLUSIONE CONSULTAZIONE PUBBLICA MASTERPLAN "AGENTI CLIMATICI" - RIGENERAZIONE DEGLI SCALI FARINI E SAN CRISTOFORO
Focus su Scalo Farini. Con OMA, Laboratorio Permanente, Philippe Rahm Architects, Vogt Landscape Architects, Ezio Micelli, Temporiuso, Arcadis e Net Engeneering. A cura di FS Sistemi Urbani e COIMA SGR, in collaborazione con Comune di Milano
H. 14:00 – 15:30 | HOME BRAND EXPERIENCE: CREARE COMUNITÀ RESIDENZIALI ATTRAVERSO LA MOBILITÀ SOSTENIBILE
Con Stefano Boeri, Enea Roveda /Lifegate, Andrea Boschetti / Studio Metrogamma, Giorgio Meszely / Gaiago, Nicola Marsala / AfterSales at KIA, Michelle Noussan / Fondazione Eni Enrico Mattei, Donatella Wallnoffer /1BF e Istituto Nazionale di Bioarchitettura Milano. Modera Nicola Saldutti / Economia Corriere della Sera
H. 15:30 – 17:00 | LA CITTÀ DEL FUTURO POSSIBILE: CIRCOLARE, DIGITALE, MOBILE
Con Giorgia Abeltino / Google Arts and Cultures, Lorenza Baroncelli / Triennale Milano, Luca Dal Fabbro / SNAM, Walter de Silva / Automotive designer. Modera Mario De Pizzo / Rai TG1. Introduce Angelo Argento / Culturae Italiae. A cura di Cultura Italiae
H. 16:00 – 17:00 | DIS/ASTRO - PRATICHE DECENTRALIZZATE A CONFRONTO
Con Scuola Politica Gibel, Marginal Studio. A cura di Post Disaster Rooftops
H. 18:00 – 19:00 | LA NATURA DELL'ARCHITETTURA
Con Vittorio Pizzigoni / baukuh, Giacomo Brenna / lopesbrenna, Philipp Wündrich / Tochtermann Wundrich, Matteo Ghidoni / salottobuono
H. 19:00 – 20:00 | PRATO FABBRICA NATURA / SKIRA
Book presentation, con Elisa Cattaneo, Emilia Giorgi, Antonella Perretta, Alessandro Bonfanti, Maurizio Montagna, Cristiana Perrella, Pierpaolo Ruttico, Fosbury Architecture
21:00-22:00 | FRIDAYS FOR FUTURE MILANO. SIEDI ANCHE TU AL TAVOLO DEL FUTURO
Con Fridays for Future Milano. Modera Simone Molteni / Lifegate. Introduce Stefano Boeri
Saturday 25 May
10:00-13:00 | URBAN TERRITORIES IN TRANSITION. THE GREATER GENEVA CONSULTATION
Saluti istituzionali di Elena Cogato Lanza, Sylvain Ferreti, Marion Charpié-Pruvost. Presentazione progetti con Franck Hulliard, Pierpaolo Tamburelli, Maria Chiara Pastore, Matthias Armengaud, Milica Topalovic, Oscar Buson, Nathalie Mongé, Apaar_paysage, Paola Viganò. Modera Panos Mantziaras. In collaborazione con Fondazione Braillard
H. 15:15 – 16:45 | URBAN TERRITORIES IN TRANSITION. THE GREATER GENEVA CONSULTATION
Con Peter Droege / University of Liechtenstein, Robert Sadleir /Westminster University. A cura di Fondazione Braillard
H. 16:00 – 17:00 | PANEL DISCUSSION – FUTURE FACTORY
Con Demetrio Scopelliti / Assessorato Urbanistica, Verde, Agricoltura del Comune di Milano, studenti del Future Factory Workshop. Introducono Stefano Boeri e Peter von Wesendonk / Console Generale Aggiunto della Repubblica Federale Tedesca a Milano, Franziska Schreiber / adelphi. Modera Alexander Carius / adelphi. A cura di adelphi Berlin
H. 18:00 – 19:00 | IL FALSO È L'AUTENTICO / QUODLIBET
Book presentation, con Lorenza Baroncelli, Maurizio Cilli, Lorenzo Romito, Manuel Orazi. Modera Azzurra Muzzonigro
H. 18:00 – 19:30 | PETCHA KUTCHA
Young Talents Marathon. Introduce Lorenza Baroncelli
H. 20:00 – 21:00 | THE HIDDEN CITY. PALAZZO ABATELLIS, PALERMO / HUMBOLDT BOOKS
Con Stefano Graziani, Simona Malvezzi, Ippolito Pestellini Laparelli, Cloe Piccoli. Modera Marco Sammicheli
Sunday 26 May
H. 11:00 – 13:00 | UNIVERSITÀ È CITTÀ - EVOLUZIONE E TENDENZE CONTEMPORANEE
Con Alessandro Balducci, Emilio Faroldi, Andreas Kipar, Cristina Messa, Bruno Pavesi, Gianluca Peluffo
H. 11:30 – 13:00 | VERSO LA CITTÀ DEL FUTURO: LA BIENNALE DI URBANISTICA E ARCHITETTURA DI SHENZHEN 2019
Con Tullio Avoledo, Daniele Belleri / UABB, Edoardo Bruno / UABB, Fabio Cavallucci / UABB, Meng Jianmin / UABB, Carlo Ratti / UABB. Modera Manuela Lietti / UABB
H. 13:30 – 14:45 | LA HABANA 500: CONSERVACIÓN Y FUTURO
Con Eusebio Leal Spengler, Patricia Rodriguez Alomà, Eduardo Luis Rodriguez. Modera Umberto Zanetti (in lingua spagnola)
H. 14:45 – 15:30 | VITTORIO GARATTI / ARCHITETTO
Riceve il Diploma d'Onore per la partecipazione alla XXII Triennale di Milano. Con Stefano Boeri, Enrico Bordogna e Ferruccio Resta
H. 16:30 – 18:00 | THE GLOBAL URBAN FOREST
Con Simone Borelli, Fabio Salbitano, Alan Simson
ATLAS FOR THE END OF THE WORLD Con Richard Weller
H. 17:00 – 18:00| SECOND HAND SPACES
Con Fala Atelier, Kosmos, Assemble. Modera Bogdan Peric
H. 17:00 – 18:00 | OPEN URBANISM
Book presentation, con Lorenza Baroncelli, Stefano Boeri, Ippolito Pestellini Laparelli, Sandro Balducci / Politecnico di Milano, Leopoldo Freyrie / Fondazione Ri.U.SO., Isabella Inti / Temporiuso, Fabio Renzi / Fondazione Symbola
H. 17:00 – 19:00 | SUPER - CACCIA AL TESORO
Una caccia al tesoro alla scoperta del Parco delle Culture. Con Spartaco Albertarelli e Stefano Mirti. A cura di SUPER (Scuola Superiore d'Arte Applicata del Castello Sforzesco) con Milano PrintMakers un progetto di Spartaco Albertarelli, Valentina Dalla Costa, Stefano Mirti, Francesca Miscioscia, Mariangela Savoia. Illustrazioni di Alice Romano
H. 18:00 – 18.30 | URBAN CENTER - CALL FOR IDEAS
Con Pierfrancesco Maran, Stefano Boeri, Lorenza Baroncelli
H. 18:00 – 19:00 | IL FALSO È L'AUTENTICO / QUODLIBET
Book presentation, con Lorenza Baroncelli, Maurizio Cilli, Lorenzo Romito, Manuel Orazi. Modera Azzurra Muzzonigro
H. 18:00 – 19:30 | PETCHA KUTCHA
Young Talents Marathon. Introduce Lorenza Baroncelli
H. 18:30 – 19.30 | REINVENTING CITIES
Presentazione dei progetti vincitori. A cura di C40, Comune di Milano, FS Sistemi Urbani
H. 18:30 – 20:00 | REGENERATION & THE CITY
Con Filippo Addari / Mind Milano, Edoardo Colombo / Cultura Italiae, Michelangelo Giombini / Manifattura Tabacchi Firenze, Valentina La Terza / Wonder Grottole, Mauro Lazzari / Metamor Architetti Associati, Melissa Rotta Loria e Marianella Cervi / Timberland, Francesca Mazzocchi, Marco Tognetti / LAMA e autore Libro Bianco. Modera Isabella Inti / Temporiuso